Max Holloway calls out Frankie Edgar and the UFC should book it immediately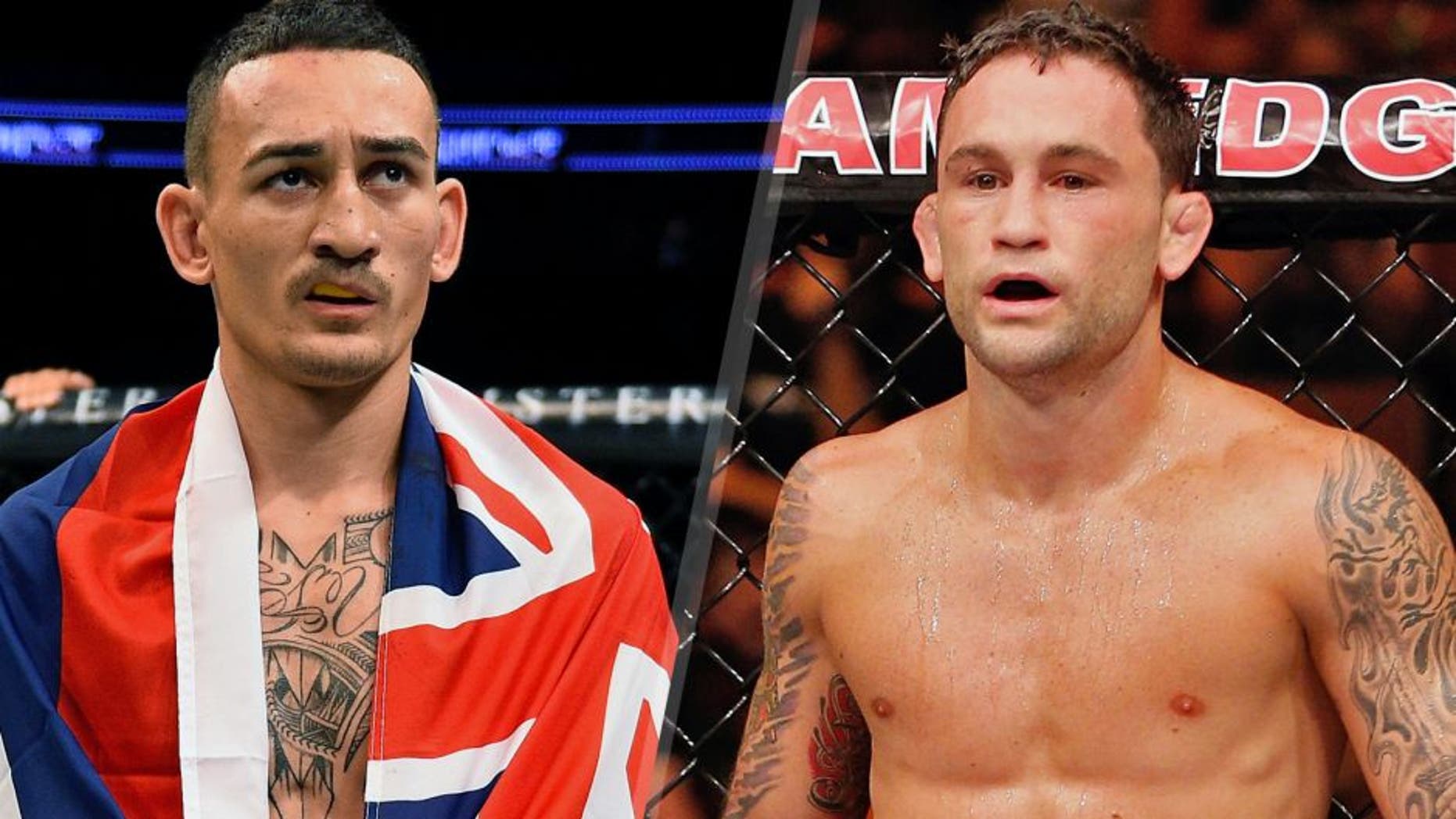 Injuries are part of fighting.
Everybody knows it and anybody who has ever been looking forward to a UFC card and watched a main event or co-main event crumble thanks to one body part or another failing understands the brunt of how injuries truly affect this sport.
While it doesn't happen very often, injuries also occur during fights and it can put a damper on an otherwise great show.
Max Holloway found that out the hard way on Sunday night in his main event bout against Charles Oliveira in a fight that should have crowned a new contender in the featherweight division.
Instead, Holloway got the win after Oliveira suffered a strange injury just over 90 seconds into the first round that finished the first ever UFC show in Saskatoon, Saskatchewan, Canada with a dull thud.
The victory ties Holloway with current featherweight champion Jose Aldo for the longest winning streak in the division (7) although there's no way this one doesn't feel a whole lot different than the first six. You might not know it given Holloway's reaction -- he climbed the cage and jumped over to celebrate with his family like he just won the title -- but in reality this win only further muddies the water at 145 pounds.
Either Holloway or Oliveira were supposed to take a decided step forward in the 145 pound title race. The featherweight title unification bout will go down in December with Aldo facing interim champ Conor McGregor while Frankie Edgar looms overhead just waiting to face the winner.
The main event winner from Sunday night will probably still end up in a No. 1 contender's fight against either Edgar or possibly former title challenger Chad Mendes and the UFC needs to move to book that fight as soon as possible.
The bad taste of a disappointing main event won't go away just because another fight gets made, but it will certainly lessen the sting in terms of the finality we didn't get in the matchup between Holloway and Oliveira.
One of them was supposed to walk out with a huge victory and stake a claim to a featherweight title shot in 2016. Instead, Holloway just has to hope he can book another fight as quickly as possible while Oliveira has to figure out what exactly went wrong with his neck and shoulder before climbing back up the ladder in the featherweight division.
While the injury certainly isn't Holloway's fault, he did take full advantage of the time he had in the spotlight after his win on Sunday night over Holloway. Many fighters pass up on this golden opportunity to sell an idea to fans and viewers at home and despite the controversial nature of the ending, Holloway still made the most of the microphone time he was afforded with a captive audience.
"People keep saying that this might be a title contention shot, but I believe one guy deserves it and that's Frankie Edgar. So UFC, why not go to UFC Hawaii -- Max Holloway/Frankie Edgar, Aloha Stadium, let's do it!" Holloway shouted.
Chances are Holloway won't get part of that wish.
The UFC has still never planned a show in Hawaii and with just a few months left to go in 2015, it's not likely they will go there this year or even to start 2016 either. The other part of the request might be granted, however, because the UFC needs a No. 1 contender to face the winner of Aldo vs. McGregor and this might be the golden goose that just fell in their lap.
If Holloway did beat Oliveira, but went to war with him for 25 minutes, it's unlikely he'd be ready to compete again this year. That would leave Edgar with a lot less in the way of options for a fight before the close of 2015.
Edgar has already said he doesn't want to sit out and wait for the winner of Aldo and McGregor so a bout against Holloway not only keeps him busy but puts both men in the perfect position to earn a good payday and a title shot for whoever comes out on top.
There's always the argument that by gaining one contender you eliminate the other, but look at what just happened to Oliveira.
It's impossible to predict how these things play out, but right now the UFC has a rare chance to pit two of the best featherweights together for a full fledged No. 1 contender's match at a time when the division is thriving at its highest level since joining the UFC four years ago.
Maybe Edgar and Holloway could face off as the main event at 'The Ultimate Fighter' finale in December just 24 hours away from the featherweight title fight at UFC 194? It would almost seem wrong not to see these two square off in a five round main event.
Anything could happen, but the UFC would be foolish to miss out on a featherweight fight of this magnitude while setting up the perfect scenario to find either Aldo or McGregor another opponent to talk about after they settle their rivalry at UFC 194.