Mason indicates Vandy QB competition might be over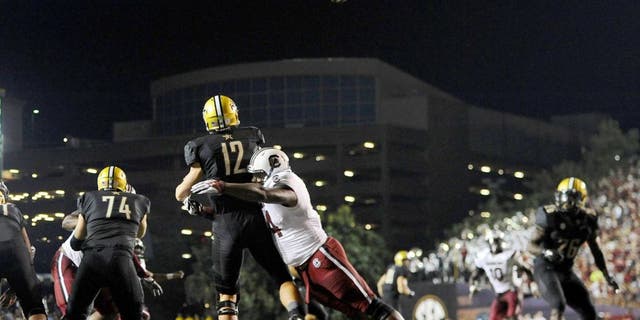 Vanderbilt played four quarterbacks last seasons, and the results were ... well, not good.
Commodores coach Derek Mason has said this offseason that he won't go the same route this year, instead opting to pick a starter and stick with him. So the quarterback competition in camp has been one to watch, with sophomores Johnny McCrary and Wade Freebeck the main candidates.
Mason (a former defensive coordinator at Stanford) has said that new ofensive coordinator Andy Ludwig will pick the starter but won't announce it publicly before the season opener against Western Kentucky.
And from the comments last week from both Ludwig and Mason, it sounds as though the competition is close to being decided -- if it isn't already.
Mason told the media last week, "Guys are starting to distance themselves in terms of who is the one and who is the two. When we line up against Western Kentucky, you'll know who our starter is."
As for Ludwig, he told the Tennessean, "(In) the ownership of the offense, I think the whole (quarterback) room has done a good job. There are some guys that aren't necessarily competing for the job that have shown much more ownership of what we're doing. ... I feel good about the whole group."
While it's difficult to parse any specifics from either of those comments, Mason added a bit more detail that offers some opportunity to read between the lines.
"Johnny is talented, but it takes more than talent to play in this conference, especially when you're talking about a quarterback," Mason told the media. "Johnny possesses all the tools. He's got height, athleticism, a strong arm, and he has really started to command this offense, but so has Wade. (McCrary) is going to get better as we play games. He'll learn a lot from the season, as will Wade. Right now, Johnny is a talented quarterback who is looking to get on the field and make sure he can lead his team when the opportunity presents itself."
That quote, while ambiguous, would seem to imply that Freebeck is in the lead (since he "is going to get better as we play games") while McCrary is still "looking to get on the field." But there's enough praise for McCrary that this interpretation could be inaccurate.
One way or another, we'll find out Sept. 3 when Vandy takes the field.