Martina Navratilova criticizes Serena Williams' behavior at US Open final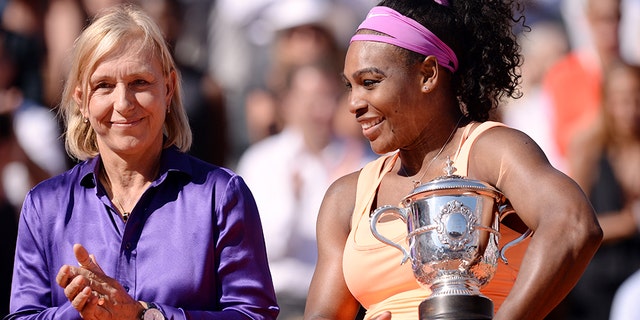 NEWYou can now listen to Fox News articles!
Eighteen-time Grand Slam singles champion Martina Navratilova criticized Serena Williams' conduct during her U.S. Open defeat in the pages of The New York Times Monday, writing that Williams engaged in behavior "that no one should be engaging in on the court."
Williams was cited three times by chair umpire Carlos Ramos during the second set of her 6-2, 6-4 loss to Naomi Osaka in Saturday's singles final. The first penalty, for getting coaching signals, earned her a warning. The second penalty, for breaking her racket, cost her a point. The third penalty, for berating Ramos and calling him a thief, cost her a game.
Williams argued that Ramos would not have penalized her so harshly if she were a man. WTA CEO Steve Simon agreed, saying in a statement that the organization "believes that there should be no difference in the standards of tolerance provided to the emotions expressed by men vs. women ... We do not believe that this was done [Saturday] night."
However, Navratilova wrote that the focus on the sexism controversy "is missing the point."
"[W]e cannot measure ourselves by what we think we should also be able to get away with," she said, adding, "There have been many times when I was playing that I wanted to break my racket into a thousand pieces. Then I thought about the kids watching. And I grudgingly held on to that racket."
"Had I behaved like that on a tennis court, I would have expected to get everything that happened to Serena," Navratilova told Times reporter Juliet Macur in a separate story. "It should've ended ... with the point warning, but Serena just couldn't let it go."
In her op-ed, Navratilova said that Williams was correct when she claimed that "[t]here is a huge double standard for women when it comes to how bad behavior is punished — and not just in tennis."
However, she added, "I don't believe it's a good idea to apply a standard of 'If men can get away with it, women should be able to, too.' Rather, I think the question we have to ask ourselves is this: What is the right way to behave to honor our sport and to respect our opponents?"
Navratilova's comments were backed by longtime player-turned-broadcaster Mary Carillo.
"At her very best — and she is very often at her very best — I respect and admire Serena beyond measure," Carillo told MSNBC on Monday. "...But at her very worst, as she was on [Saturday] night, she acts like a bully."
"If you follow tennis at all, you know those rules. They are inviolate," Carillo added. "A lot of these people that are weighing in and saying double standard. I'm saying, you know what? This is not the hill you want to die on."
Also Monday, the International Tennis Federation backed Ramos, saying his "decisions were in accordance with the relevant rules" and "reaffirmed by the U.S. Open's decision to fine Serena Williams for the three offenses."
On Sunday, tournament referee Brian Earley docked Williams a total of $17,000: $10,000 for "verbal abuse" of Ramos, $4,000 for being warned for coaching and $3,000 for breaking her racket.
The ITF added that "Ramos undertook his duties as an official according to the relevant rule book and acted at all times with professionalism and integrity."
The Associated Press contributed to this report.