Marshawn Lynch is a big name but not a big addition for the Raiders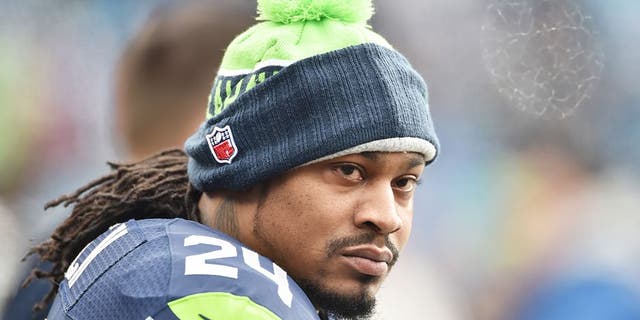 NEWYou can now listen to Fox News articles!
The Oakland Raiders came into the offseason knowing they would probably need to add a running back. Latavius Murray was a free agent, and they didnt have a viable replacement on the roster.
Adrian Peterson and Jamaal Charles hit the open market, but the Raiders opted to go after a guy who hasnt played football in a year: Marshawn Lynch.
On Friday, Lynch reportedly agreed to terms on a contract with Oakland, setting the wheels in motion for him to officially return to the NFL. The Seahawks still need to relinquish his rights via a trade with the Raiders, but that seems to be a formality at this point.
This is all well and good, and its swell for the city of Oakland, but it doesnt solve the Raiders problems at running back. In fact, this is more of a glamour move for a team thats leaving for Las Vegas in a few years a last hoorah, of sorts.
AP/Copyright The Associated Press. All rights reserved. This material may not be published, broadcast, rewritten or redistribu
Trust me, few people are more excited to see Lynch on the field than I am. Hes one of the most exciting and unpredictable characters to step foot on an NFL field, and seeing him in black and silver will be fantastic. But at the same time, the Raiders have to realize that he isnt a long-term answerand may not be an answer at all.
We dont know how much he has left in the tank after an offseason of eating Skittles (kidding) and traveling the world. Even when he was last on the field, he was ineffective and certainly not a three-down back.
He averaged only 3.8 yards per carry in 2015 and didnt have the same explosiveness we were accustomed to seeing. Was that the result of several injuries? Sure, but it also had to do with him not being as effective as a running back.
Not to mention, hes far more successful when the quarterback is under center. Thats not to say he cant run out of the shotgun, but the majority of his carries in the NFL have come from Single-back and "I" formations. The Raiders are a shotgun-heavy team, which makes Lynch a not-so-great fit in their offense.
I have little doubt hell get in shape before the start of the season and will put everything into this triumphant return for his hometown team, its just a bad idea for the Raiders -- a team with Super Bowl aspirations -- to bank on him being the starter for all 16 games.
Jake Roth/Jake Roth-USA TODAY Sports
And maybe they dont expect that. Maybe theyre thinking the same thing I am that signing Lynch is just a way to excite fans in Oakland. After all, the fan base is unquestionably disappointed that the franchise is leaving yet again.
The Raiders still have to draft a running back fairly early. Not necessarily in the first round, but they should at least consider it in the second and third. This is a historically deep class at that position, so capitalizing on it would be wise. The Bears found the leagues second-leading rusher in the fifth round in Jordan Howard, so theres no reason to think the Raiders cant do the same this year especially with an elite offensive line.
Lynch is charismatic, funny, and a character off the field, but hes not going to take Oakland from Super Bowl contention to Super Bowl appearance. Hes not a 20-carry guy, and theres no guarantee hell even make the 53-man roster. Well have to see what the terms of his contract are, but you can bet they are incentive-heavy with very little guaranteed money.
Until then, lets get excited about Beast Mode being back in the NFL while remembering to temper our expectations.