Márquez Fights, but With an Eye on Pacquiao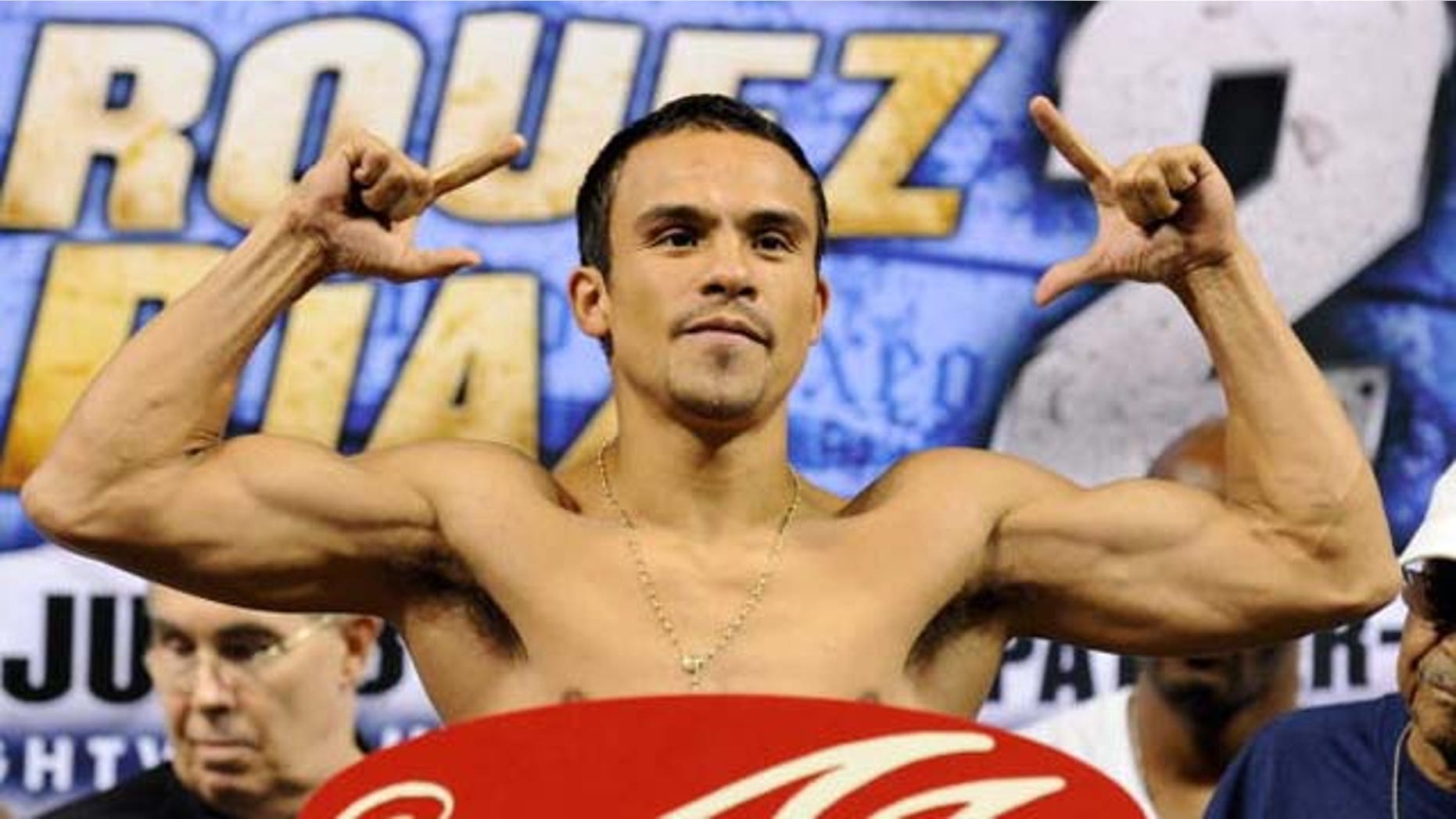 Juan Manuel Márquez will fight Saturday, but it won't against the fighter he desperately wants in the ring.
That, of course, would be Manny Pacquiao.
Instead, Márquez, Mexico's most accomplished boxer, will battle Michael Katsidis at the MGM Grand Garden Arena in Las Vegas.
"At this stage of my career, there are no easy fights," Márquez said before a short, precise workout at a Hollywood gym earlier this week. "Everybody comes in there to cut off my head."
Márquez (51-5-1, 37 KOs) will fight Katsidis (27-2, 22 KOs) in what most expect to be a dramatic fight. Katsidis is an exciting Australian brawler who often shows little regard for defense, and Márquez has made a career out of eating up foolhardy opponents with precision and counterpunching.
But Márquez has been full of praise and caution when discussing Katsidis, who went ahead with the fight despite the death of his brother, jockey Stathi Katsidis, in October.
"I feel very sorry for what happened, but I know he's going to be motivated for this fight," Márquez said. "He's very strong and has a difficult style, a very commercial style. He's coming to fight hard, and it'll be a great match of styles. He throws a lot of punches, and that's the best thing he does."
Another all-action fight would be no surprise with Márquez, who has put on thrilling performances in recent years during two-fight matchups with Juan Díaz and Pacquiao. Márquez is among the world's most virtuosic boxers, with a wealth of veteran experience on top of his rigorous workouts.
Yet in his heart, he's still the same macho, hardheaded fighter who turned down a $750,000 deal for his first rematch with Pacquiao and instead flew to Indonesia in 2006. He made $30,000 while losing his featherweight title to Chris John in a hometown decision simply because trainer Nacho Beristain thought it was a good idea.
Márquez also bulked up last year to fight the much bigger Floyd Mayweather Jr. Although the fighters' size difference left Márquez at a huge disadvantage, he never stopped trying in a lopsided loss.
Márquez twice came agonizingly close to beating Pacquiao, who rose to the apex of their sport after sweating out a draw in 2004 and a split decision over Márquez in 2008. Both fights were highly entertaining, and a third bout seems a logical conclusion -- to everybody but the pound-for-pound champion and his camp.
Pacquiao told reporters last week that he wouldn't watch a third fight with Márquez because it wouldn't be entertaining. Top Rank promoter Bob Arum has said he would do the fight only if Marquez's promoters at Golden Boy stepped aside, as Top Rank and Golden Boy do not get along these days.
"I don't think Arum or Pacquiao have any interest in making the fight," Golden Boy CEO Richard Schaefer said. "It's not in my hands. We can plea, we can ask, but that's not the way this sport goes."
Márquez says Pacquiao is scared of him and intimidated by his promoters, but even while making such incendiary statements, it's easy to spot the resignation in his voice. If he dispatches Katsidis and doesn't get that call from Pacquiao, he'll move on to more challenges — perhaps getting a long-overdue meeting with Erik Morales, the revitalized former Mexican star, or giving a chance to up-and-coming California champion Robert Guerrero.
But no matter how much longer he fights, Márquez likely will never stop thinking about a third chance against the one who got away.
"He knows people want to see that fight, but he's afraid to face me," Marquez said. "I'll do whatever I have to do to make the fight. Let's do it. Let's finish our business."
Based on reporting by the Associated Press.
Follow us on twitter.com/foxnewslatino
Like us at facebook.com/foxnewslatino