Marcus Mariota explains why he didn't chug beers with teammates at Predators game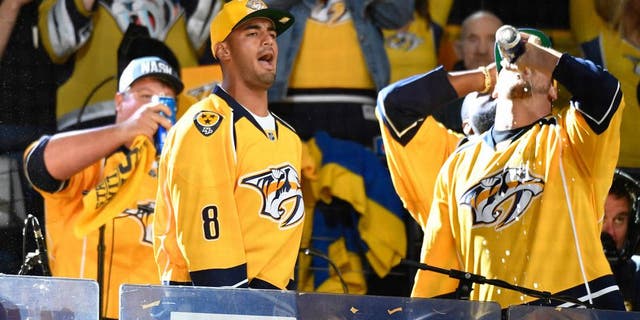 NEWYou can now listen to Fox News articles!
Nashville has played host to one of the wildest sports scenes in recent years with the Predators in the Stanley Cup Final. A handful of Titans players have joined the fun by not only chugging beers but throwing catfish on the ice, too a weird tradition for the Predators.
You may have seen them in the stands on television a couple of times.
Marcus Mariota joined his offensive linemen at Bridgestone Arena to cheer on the Predators, but he didnt partake in any beer drinking or catfish throwing. He had a very good (and simple) reason for that.
Ive never had a sip of alcohol, Mariota said at the second annual Tennessean Sports Awardson Tuesday night.
But what about the catfish? Sure, theyre dangerous, but why not hold one up with the linemen?
Well a catfish is gross, he added.
Many people wondered why Mariota was awkwardly on the side waving a towel rather than pounding tallboys with his teammates. His high school friends wondered the same thing.
A lot of the guys that I was close with on the team, most of my high school friends, Im still close with, he said. Its funny. Theyre the guys that are texting me when Im out there at the Preds game, saying, Why arent you drinking a beer? Or, Why arent you flying a catfish out there?
The obvious explanation seemed to be that Mariota was just trying to be a good role model in the public eye as an NFL quarterback, and thats still part of it. But the main reason is that he simply doesnt drink beer or like catfish.