March Madness 2022: Saint Peter's pulls off historic upset in Sweet 16 win over Purdue
Saint Peter's made history as the first No. 15 seed to make it to the Elite Eight
NEWYou can now listen to Fox News articles!
On a wing and a prayer, Saint Peter's is in the Elite Eight.
The No. 15-seeded Saint Peter's Peacocks upset the No. 3-seeded Purdue Boilermakers 67-64 on Friday night becoming the first 15 seed to make the regional final in NCAA Men's Basketball Tournament.
CLICK HERE FOR MORE SPORTS COVERAGE ON FOXNEWS.COM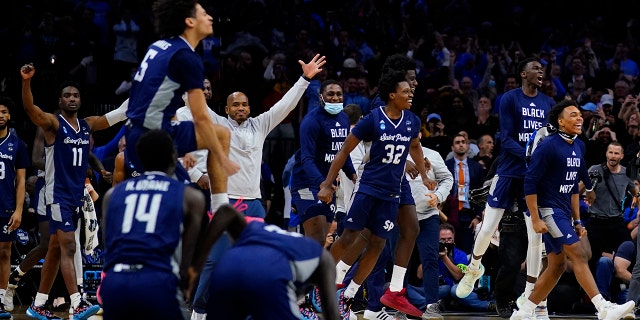 Down five points going into the second half, Saint Peter's started out on an eight-point run and held the Boilermakers to no points for nearly six minutes before Purdue finally got things going.
The Boilermakers started 0-for-7 from the floor with three turnovers and four fouls before Jaden Ivey and Trevion Williams began to turn it around. After that moment, Purdue scored the next eight points to get back into the game and take the lead while Saint Peter's would be held scoreless for more than 4 minutes after that and Purdue started to build a lead – or so they thought.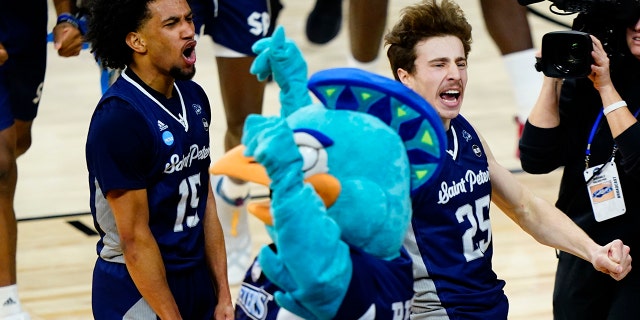 Purdue had a four-point lead with about 5 minutes left in the game but the two teams went back and forth. Foul shots at the end and aggressive and accurate shooting from the Peacocks proved to the difference-maker at the end of the game.
"I got a bunch of guys that just play basketball and have fun. ... What they gone say now?" Peacocks coach Shaheen Holloway said immediately after the game.
AS SAINT PETER'S READIES FOR SWEET 16, SPORT PSYCHOLOGIST REVEALS WHY FANS ARE ROOTING FOR PEACOCKS
Purdue out-shot Saint Peter's 42.6% to 38.9% and out-rebounded Saint Peter's 37-26 but turned the ball over 15 times, which appeared to be big difference-maker in the win for the Peacocks.
Daryl Banks III led Saint Peter's with 14 points. He had three rebounds as well. Clarence Rupert had 11 points, all in the first half. He also had three rebounds, three steals and two blocks. Doug Edert had 10 points off the bench, including three key foul shots down the stretch.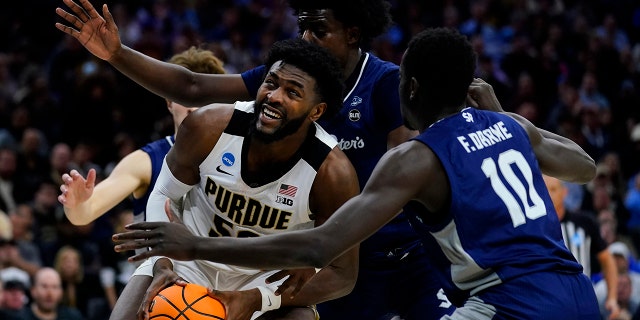 Purdue got 16 points from Trevion Williams, but he only had two in the first half. Star guard Jaden Ivey hit a rainbow three in the final seconds but was ultimately only 4-for-12 from the field and had nine points.
CLICK HERE TO GET THE FOX NEWS APP
Saint Peter's will meet the winner of the North Carolina-UCLA regional semifinal on Sunday night.