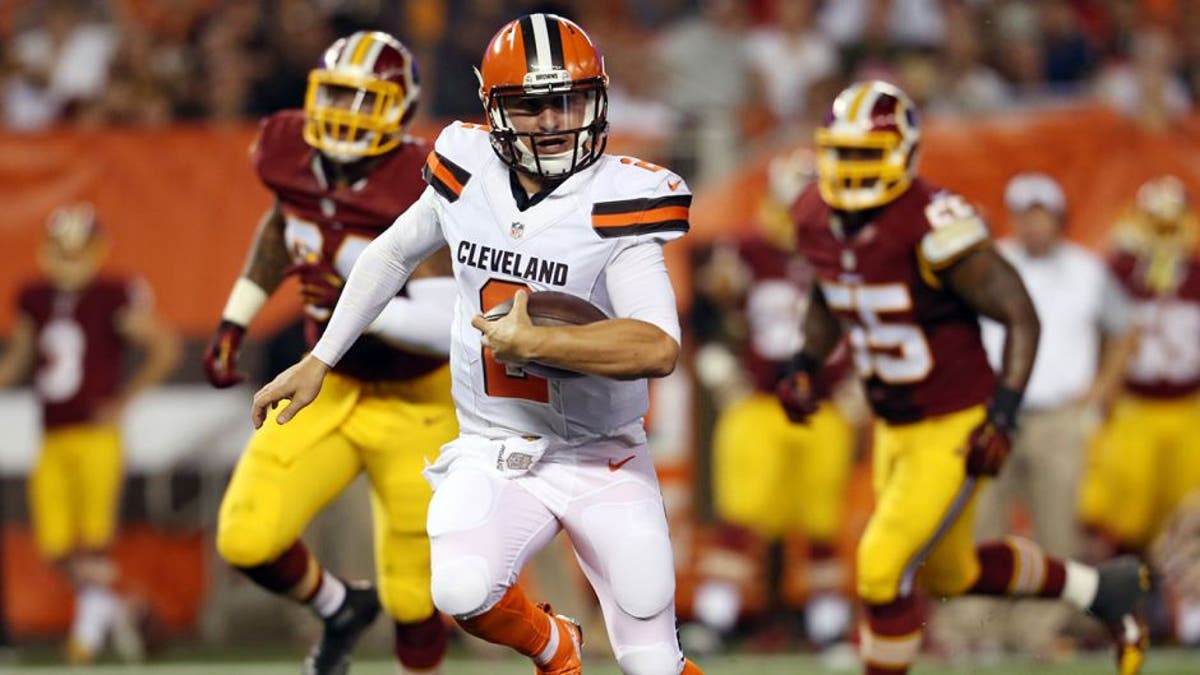 CLEVELAND -- Josh McCown threw a touchdown pass in his debut for Cleveland and backup Johnny Manziel scrambled for a TD as the Browns, busting out new uniforms for the first time, built an early lead before losing 20-17 to the Washington Redskins on Thursday night in their exhibition opener.
McCown, signed during the offseason to bring stability to Cleveland's troublesome position, connected with Travis Benjamin on a 2-yard TD in the first quarter. Manziel ran 12 yards for a score in the second.
Washington's Robert Griffin III went 4 of 8 passing for 36 yards during two possessions with the starters. Griffin would have thrown a TD pass, but wide receiver Pierre Garcon dropped a long toss.
Kirk Cousins rallied the Redskins, who trailed 14-3 in the second quarter. Cousins ran for a TD and went 12 of 14 for 154 yards.
The win was costly for Washington, which lost starting tight end Niles Paul and backup running back Silas Reed to serious leg injuries. Both players were carted off the field.
McCown, who went just 1-10 as a starter last year with Tampa Bay, was sharp during his one series. The 36-year-old completed all five passes and displayed a veteran's poise when he bought time in the pocket to allow Benjamin to get open for Cleveland's opening TD.
Washington's first-team offense didn't produce a touchdown in the preseason last year, a drought that foreshadowed Griffin's struggles in his third season.
The Redskins have been pleased with Griffin's improvement in training camp under new quarterbacks coach Matt Cavanaugh, and RG III made a couple of nice throws during his brief time on the field against the Browns.
Rolling from pressure, Griffin took a hit in the mid-section from linebacker Paul Kruger, but delivered a strike to Ryan Grant for a 22-yard gain.
Manziel has shown maturity on and off the field following a disastrous rookie season, and the 2012 Heisman Trophy winner made a smart play when he tucked the ball away and darted into the end zone for his TD. But unlike a year ago, Manziel didn't celebrate by flashing his signature ''money'' sign, a gesture he has promised never to do again.
Cousins, battling Colt McCoy to back up Griffin, ran 4 yards for a TD and led the Redskins on a go-ahead scoring drive in the third quarter.
The Redskins outgained the Browns 368-170.