Manchester United Searches For New Coach After Firing David Moyes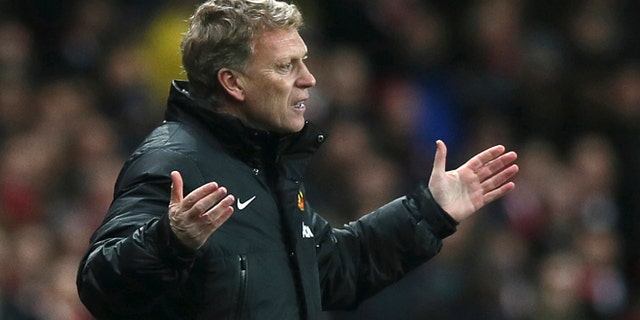 MANCHESTER, England (AP) – When Manchester United overlooked José Mourinho and chose David Moyes to be the successor to Alex Ferguson, the club gambled on a manager without a winning mentality or experience of European soccer — and with no trophies on his resume.
Instead, United went for someone with a track record of loyalty and building a dynasty, as 11 relatively successful years at Everton would attest.
It quickly became apparent, however, that Moyes lacked the gravitas for one of the biggest jobs in club soccer, that he was too satisfied with a mediocre level of performance, that he was in awe of the team rather than ready to rebuild it.
In short, he was a man out of his depth.
Now one of England's most storied clubs is searching for a new coach that can fill the shoes of Sir Alex Ferguson better than Moyes did during his brief stint.
Here's a look at five potential full-time replacements for David Moyes as Manchester United manager after his firing on Tuesday:
___
LOUIS VAN GAAL
Van Gaal already has announced he'll be leaving his post as Netherlands coach after the World Cup in Brazil and has been linked Tottenham, whose current manager Tim Sherwood is likely to be out over the summer. The Dutchman has already coached two of Europe's biggest clubs in Barcelona and Bayern Munich, as well as Ajax, and is the kind of big name that United's American owners may want after the gamble on inexperienced Moyes backfired. He is the favorite with British bookmakers.
___
RYAN GIGGS
Having established himself as a club great through his achievements on the pitch, Giggs is ready to make his mark at United in the dug-out. Destined to be the full-time manager at some point, he has been installed as temporary player-coach for the final four league matches of the season and will have the immediate respect of his teammates. The 40-year-old Welshman's resume includes 13 Premier Leagues, four FA Cups, three League Cups, two Champions Leagues, one UEFA Super Cup, an Intercontinental Cup and a Club World Cup.
___
JUERGEN KLOPP
The popular and charismatic German appears to have ruled himself out of the running to replace Moyes, telling British newspaper The Guardian on Tuesday that he is committed to his role as Borussia Dortmund coach. Things can change, though, and he may be unable to resist the pull of taking one of the game's most high-profile jobs. He guided Dortmund to the Champions League final last year, having won Bundesliga titles in each of the previous two seasons.
___
DIEGO SIMEONE
The former Argentina international is widely considered as a rising star in European coaching and is on the verge of leading Atletico Madrid to the Spanish title, with the team holding a four-point lead over Barcelona with four matches remaining. Atletico is also in the Champions League semifinals, where it plays Chelsea, and won the Europa League under Simeone in 2012. Simeone is well known in English soccer as the player whom David Beckham petulantly kicked to earn his infamous red card during the 1998 World Cup.
___
LAURENT BLANC
Blanc is about to win the French title with Paris Saint-Germain, having already achieved the feat with Bordeaux in 2009 before going on to coach France from 2010-12. A classy, ball-playing center back, he spent two years at United toward the end of his career and remains liked by United fans and Alex Ferguson.
Follow us on twitter.com/foxnewslatino
Like us at facebook.com/foxnewslatino