Manchester United Crushed By Manchester City 4-1 As Agüero Leads Charge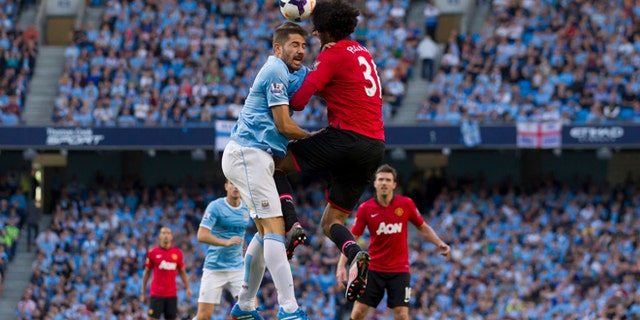 Manchester, England – The first derby between the rivals since the retirement of Manchester United manager Alex Ferguson, Manchester City delivered a ruthless attacking display to rout Manchester United 4-1 in the Premier League on Sunday.
Sergio Agüero volleyed home an acrobatic goal in the 16th minute, Yaya Toure doubled the lead in the 45th minute and Agüero scored his second goal in the 47th. Samir Nasri's 50th-minute goal completed the burst at the start of the second half.
Wayne Rooney scored United's goal on a curling free kick in the 87th
"It's horrible to lose the derby — it's always horrible. It's worse when you lose in this way," United captain Nemanja Vidic said.
While City gained a big win under new manager Manuel Pellegrini, who replaced Roberto Mancini after last season, United has struggled since Ferguson left after nearly 27 years. United (2-2-1) is eighth with seven points under new manager David Moyes, its poorest Premier League start since 2004-05 season.
"I've made them aware of what I think," said Moyes, whose team earned just one point from matches against Liverpool, Chelsea and City.
Arsenal leads on goal difference over Tottenham (both 4-1), with City (3-1-1) two points back, ahead of Chelsea and Liverpool on goal difference.
Mesut Ozil, the playmaker acquired from Real Madrid for 50 million euros ($66 million), assisted on all of Arsenal's goals in a 3-1 win over Stoke. Aaron Ramsey, Per Mertesacker and Bacary Sagna scored for for the Gunners.
American defender Geoff Cameron scored a tying goal in the 26th minute for Stoke, his first club goal since September 2011 for the Houston Dynamo.
Paulinho scored in the third minute of second-half stoppage time to give Spurs a 1-0 win at Cardiff.
Di Canio became the first Premier League manager to lose his job this season when he was fired by last-place Sunderland (0-4-1).
Based on reporting by The Associated Press.
Follow us on twitter.com/foxnewslatino
Like us at facebook.com/foxnewslatino