Major League Soccer Team Launched By New York Yankees, Manchester City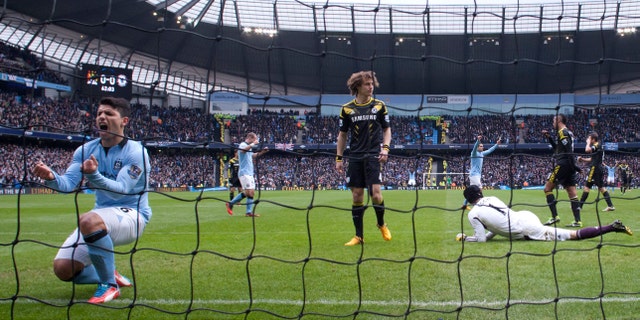 Former U.S. national team captain Claudio Reyna has been hired as director of soccer for the newly announced New York City FC of MLS.
Reyna played from 2003-07 with Manchester City, which is partnering with the New York Yankees to launch the new team. It will begin play in 2015.
He has been youth technical director of the U.S. Soccer Federation the past two years. Reyna was captain of the U.S. team at the 2002 and 2006 World Cups.
He grew up in New Jersey and lives in suburban New York.
The team, the 20th in a league that has doubled in size in two decades, has less than two years to find a temporary home while also focusing on where it wants to build a permanent stadium.
"It's a powerhouse combination," Mayor Michael Bloomberg said after Tuesday's announcement.
Manchester City, owned by Sheik Mansour bin Zayed bin Sultan Al Nahyan of Abu Dhabi, will be the controlling owner. The Yankees were approached about investing last week and will have an interest of 20 percent to 25 percent, a person familiar with the deal said, speaking on condition of anonymity because that detail wasn't announced.
The expansion fee for the new team is $100 million. It will compete for attention and dollars with 10 other professional big league clubs in the New York market.
"They'll be running all the soccer. We know our way around New York, how to get things done," said Yankees President Randy Levine, who will be the team's lead person in the launch.
While the Yankees have won a record 27 World Series titles, Manchester City is more akin to the crosstown Mets. It has just three league championships in England compared with rival Manchester United's 20. Four years ago, after City was bought by Sheik Mansour's company, United manager Alex Ferguson derisively called City a "noisy neighbor."
MLS has been negotiating with New York City to build a stadium in Flushing Meadows Corona Park, near the home of the Mets. The Mets had explored owning an MLS team before financial turmoil caused by the Bernard Madoff Ponzi scheme.
"Flushing is still the preferred site," MLS Commissioner Don Garber said.
However, some community groups have opposed using city parkland. The new owners will consider other sites.
"We need a community that supports us. We need a family that's going to embrace us," Manchester City Chief Executive Officer Ferran Soriano said. "So we're going to continue this discussion. But the first thing we want to do is to listen, listen to the community, listen to everybody."
Holly Leicht, executive director of New Yorkers for Parks, said the Yankees' involvement "opens the door for the possibility there might be a serious discussion about relocating where the stadium will go."
For a soccer stadium to be built at Flushing Meadows, NYC FC would have to reach an agreement with the Mets to use Citi Field's parking lots. The Mets declined comment on the Yankees' deal.
"It seems to make sense with the Yankees involved that the doorstep of Citi Field would be less enticing perhaps than before," Leicht said.
New Yankee Stadium, which opened in 2009, was built on the site of Macombs Dam Park. That parkland was replaced, but not fully until Heritage Field opened last year on the site of the old ballpark.
"While the parks that were built are lovely, there's still a lot of remaining anger among a lot of parks advocates about how that whole process went down," Leicht said.
Bloomberg, in the final year of his term, has advocated the Queens site.
"Flushing Meadows Park is the right place to put it," he said. "It's at the end of the park that doesn't get as much use, and we could get aid for fixing up and helping up the part of the park that everybody does use."
NYC FC will start play at an interim venue. New Yankee Stadium hosted its first two soccer matches last summer and is the site of an exhibition Saturday between Manchester City and Chelsea. The original Yankee Stadium was the home of the North American Soccer League's New York Cosmos in 1976.
"Yankee Stadium is an option, as are many places," Levine said.
The new team is intended to spark a rivalry with the New York Red Bulls, an original MLS team from 1996 that in 2010 moved into a 25,000-seat, $200 million stadium in in Harrison, N.J.
"The Red Bulls now will have a rival here in the market providing them with that derby-like competition that is such a driver of what makes football so successful around the world," Garber said.
There is a chance NYC FC can serve as a farm team for Manchester City, which in 2012 won its first Premier League title since 1968. Young players unable to break into the Man City squad could be loaned to the MLS team.
"I think naturally it will happen, that some Manchester players will end up playing in New York," Soriano said. "But the objective and the focus will be to try to find the right players for the New York team. The New York team is a team on its own."
The Yankees have long explored soccer deals. A partnership with Manchester United was announced in 2001, but that turned into a now-expired licensing and broadcasting agreement in which the clubs sold each other's licensed goods and exchanged television programming. The Yankees' YES Network has broadcast Arsenal games on a delayed basis since October 2010 — the same month the parent company of the rival Boston Red Sox took control of Liverpool in the Premier League.
Legends Hospitality, co-owned by the Yankees, Dallas Cowboys and Checketts Partners Investment Fund, will run hospitality and catering at Manchester City's Etihad Stadium next season under a partnership with Jamie Oliver's Fabulous Feasts that was announced in January. Legends already has started work on premium seat sales.
Levine downplayed his verbal sparring with Garber four years ago, which followed the MLS commissioner's comments about empty premium seats at the new New York baseball stadiums. Levine said then "if he ever gets Major League Soccer into the same time zone as the Yankees, we might take him seriously."
"Don and I are old friends," Levine said Tuesday. "What's a little fun between friends?"
With the decision completed on team No. 20, MLS can turn attention to No. 21.
Former Los Angeles Galaxy star David Beckham, retiring as a player this weekend, has an option to buy an MLS expansion team at below cost. Miami appears to be a possible market for Beckham, and groups would like to bring the league to Atlanta and Orlando, Fla.
"It's just premature," Garber said. "Clearly we've got to finalize a long-term expansion plan for the league."
Based on reporting by The Associated Press.
Follow us on twitter.com/foxnewslatino
Like us at facebook.com/foxnewslatino