Maguire's growth has strengthened his push for FSU's starting QB job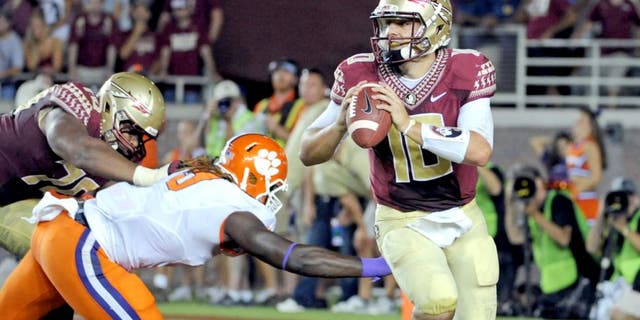 Florida State quarterback Sean Maguire. Melina Vastola USA TODAY Sports
Florida State head coach Jimbo Fisher has a tough choice to make this week, and Sean Maguire is not making it easy for him.
Maguire, a junior, lost a preseason battle with Notre Dame senior transfer Everett Golson, but has grown as a passer since then and is once again making a push for the starting job.
With Golson sidelined for the last two games while recovering from what the school is calling concussion-like symptoms, Maguire has managed to reheat the quarterback battle.
"He just keeps growing in the offense and he's made plays," Fisher said. "He's been very consistent in what he's done, how he's played and how he's approached the game.
"… Sean's done a nice job improving and being consistent. … He's been consistent down the field. In game management he's checked out of things and made backside reads and he's just growing in his comfort level and believing in himself and the choices he's making."
Maguire was stellar in his first start of the season as he threw for 348 yards and three TDs during the No. 16 Seminoles (7-2, 5-2) win over Syracuse two weeks ago.
Maguire regressed during FSU's 23-13 loss to No. 1 Clemson, totaling 164 yards and no touchdowns, while being intercepted once.
Still, Fisher felt he saw enough to list Maguire at the top of the depth chart for this Saturday's game with N.C. State (6-3, 2-3), but not enough to remove the "or" connecting his name to Golson's.
"Everett's done nothing wrong. Everett will be there for us, there's no doubt," Fisher said. "He won the battle early and he's played well. He got injured and Sean was playing at a high level."