'Madden 16' ratings: Patriots best, Jets worst in AFC East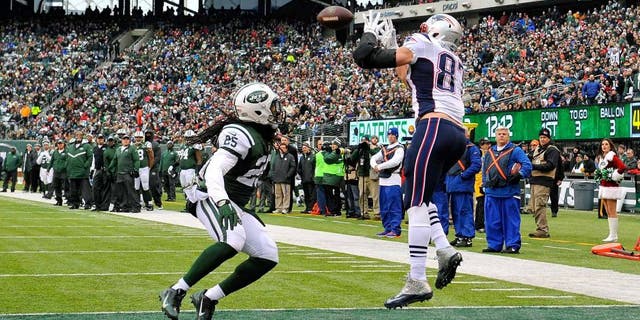 The New England Patriots were the undisputed champions last season as they hoisted the Lombardi trophy after their Super Bowl victory. They've been the best team in the AFC East for the better part of the last decade, as well, although that could change in 2015 with Brady's four-game suspension looming.
The Patriots still enter the season as the favorite to win the division once again, even with Brady out for a quarter of the season. In "Madden 16," though, Brady doesn't have to miss a single game. His suspension doesn't influence his team's rating in the slightest bit, which is why the Patriots are the highest-rated team in the AFC East.
Coming in at 91 overall, the Patriots dominate the AFC East in the upcoming "Madden 16." Headlined by Tom Brady (97 overall) and Rob Gronkowski (99 overall), the Patriots are sure to be fan favorites in the game. The Brady-Gronk connection will be a frequent one among gamers.
The Miami Dolphins edged out the Buffalo Bills for second in the AFC East, while the New York Jets are unfortunately, the worst team in the division -- according to "Madden," at least.
The Dolphins have a strong pass rush in the game as they do in real life, with Ndamukong Suh at 96 overall and Cameron Wake at 94 overall. The secondary, however, could use some help with Brent Grimes at 87 overall, and the next best corner, Brice McCain, at 76 overall.
Like the Dolphins, the Bills are strong on defense, but Buffalo is lacking on offense. Matt Cassel is the team's highest-rated quarterback with an overall rating of 75, followed by EJ Manuel (73 overall) and Tyrod Taylor (72 overall). LeSean McCoy will give the offense a much-needed spark, with an 88-overall rating and ridiculous elusiveness.
Lastly, the Jets round out the AFC East. Weak quarterback play headlined by Ryan Fitzpatrick (78 overall) and Geno Smith (76 overall) are just part of the weaknesses of the roster, along with the lack of a great running back. Where the team lacks on offense, it makes up for it on defense with a stout offensive line and an outstanding secondary. Darrelle Revis (97 overall) and Antonio Cromartie (86 overall) will shutdown opposing quarterbacks, giving the team a chance to win each game on paper.
(h/t EA Sports)