Love in Rio: Brazilian-American female rugby player gets engaged to girlfriend at Olympics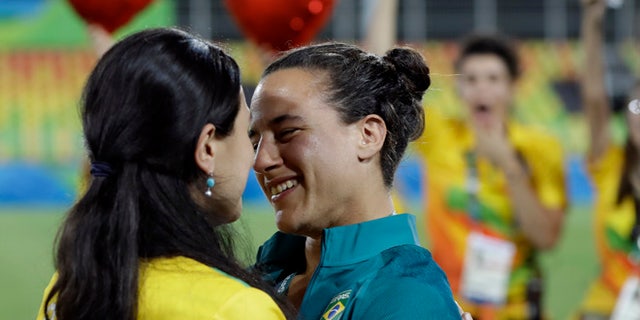 Brazil's female rugby sevens squad aren't moving forward into the knockout rounds but still have something to celebrate.
Isadora Cerullo, who was raised in Raleigh, North Carolina and plays for the host nation's team, became the first person to become engaged at this year's Olympic games when her girlfriend of two years, Marjorie Enya, popped the question.
According to reports, Enya, who is the manager of the Deodoro Stadium in Rio, entered the pitch on Monday night after the first women's rugby final in Olympic history. She grabbed a microphone and delivered an emotional speech before proposing.
"As soon as I knew she was in the squad I thought I have to make this special," Enya told BBC Sport. "I know rugby people are amazing and they would embrace it."
Cerullo, who is the daughter of Brazilian immigrants and holds dual U.S. and Brazil citizenship, moved with Enya to Sao Paulo to focus on making the women's rugby sevens squad. They have been together for two years.
"She is the love of my life," Enya told the BBC. "The Olympic Games can look like closure but for me it's starting a new life with someone. I wanted to show people that love wins."
Brazil's squad finished ninth in the inaugural Olympic outing for sevens. They started as 12th seeds, having only qualified as hosts.