Louisville anchor does a 'RapCast'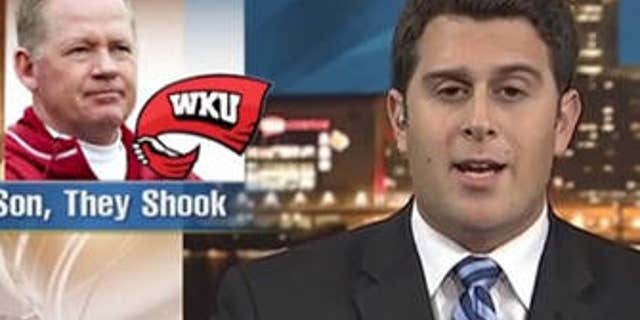 Sports anchor Adam Lefkoe of Louisville's ABC affiliate, WHAS, takes his job seriously. Yet he also knows how to have fun like no other counterpart in the business.
In his "Sportscast" this past Sunday, Lefkoe -- who has devoted previous editions of "Sportscast" to professional wrestling and "Seinfeld" -- included 46 hip-hop references in roughly five minutes while recapping the previous day's Louisville-Kentucky and Western Kentucky and Indiana games (among other sports stories).
Here are some of our favorites:
[ College football's funniest names ever ft. Jim Bob Cooter ]
0:09 – "When Charlie Strong woke up this morning, he knew it was a good day." (Ice Cube, "It Was a Good Day") 1:24 – "Alabama has stopped, dropped and opened up shop at No. 1." (DMX, "Ruff Ryders Anthem") 1:57 – "Max Smith missed most of the second half and he has no diggity or doubt that he will play against the Gators." (Blackstreet, "No Diggity") The graphic of Bobby Petrino with the words "Son, They Shook" (Mobb Deep, "Shook Ones") underneath is also a nice touch.
Naturally, when Lefkoe was finished, he dropped the miniature mic.
The second most up-voted comment for the YouTube clip of this puts it best: "How long until ESPN hires this bad a*s fool?"
Most popular on LostLettermen.com :
• PHOTOS: College football's hottest cheerleaders gallery
• PHOTOS: College football's hottest WAGS of 2013
• GALLERY: Grading college football's new 2013 uniforms
• NFL draft's top 50 busts: Where are they now?
• VIDEOS: Top 10 biggest hits in college football history
• PHOTOS: College football Top 20 best helmets
• PHOTOS: College FB Pro Combat helmet concepts go viral
• College football's Top 20 super fans in America