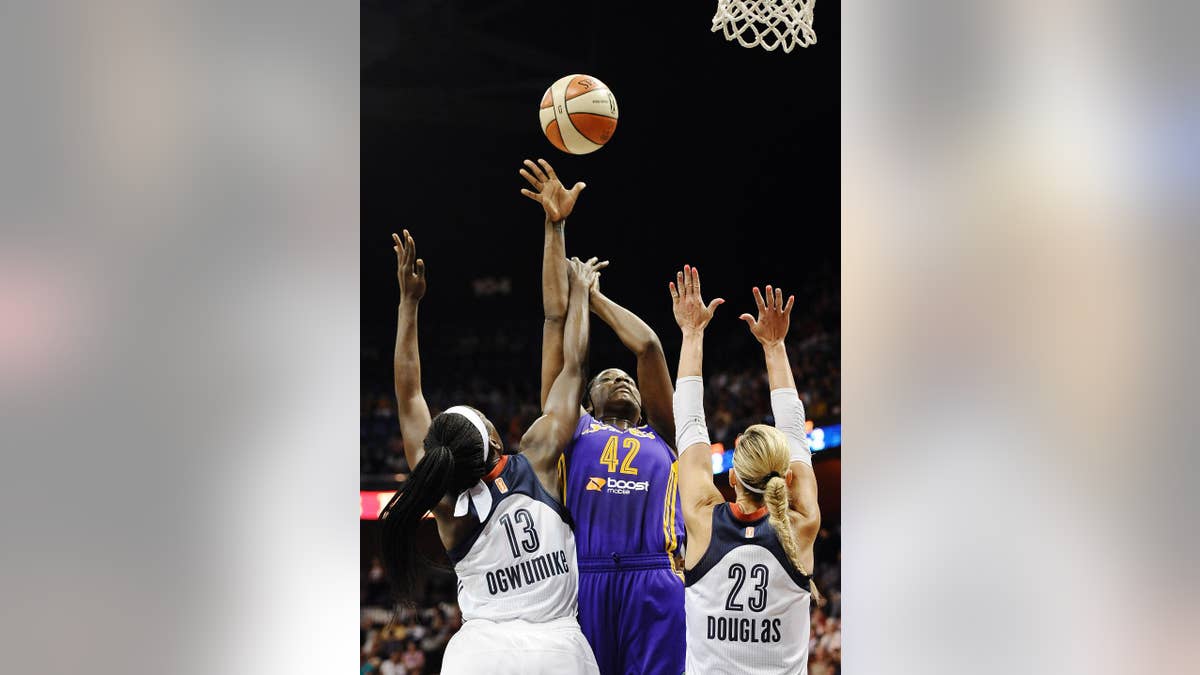 Candace Parker and the Los Angeles Sparks left for their four-game road trip languishing near the bottom of the Western Conference. Now they return home with renewed confidence and in the midst of a season-high winning streak.
The Sparks (10-11) had struggled this season closing out games, losing five times when they led in the final few minutes. Parker took responsibility for the late-game collapses saying that she had to make sure the ball was in her hands to make the right play when it mattered.
"I need the ball," Parker said. "Whether I'm making the shot or the right pass, I should be the one who makes the play."
In the current three-game winning streak the Sparks haven't let the game come down to the final possessions. Los Angeles blew out New York and Connecticut before using a late run to beat Indiana by eight points on Tuesday night. Parker had a season-high 34 points in the win over the Fever.
"It's easier when we don't make it come down to the end," Sparks coach Carol Ross said laughing after the 26-point win over Connecticut on Sunday. "It helps that we have our team back now."
The Sparks were missing guard Kristi Toliver for seven games while she was playing for the Slovakian national team.
"It definitely wasn't an easy decision," Toliver said. "It was a decision that happened a year and half ago, that's when the process started. It was a little easier making it then because in that time I wasn't having to leave a team. When it became a reality it was a lot more difficult and was tough."
By becoming nationalized for Slovakia, Toliver can earn more money playing overseas in the winter since most foreign teams have a limit on the number of non-European players they can have on their rosters. Gaining Slovakian citizenship helps Toliver skirt that problem.
Ross understood her point guard's difficult choice.
"It's nature of the culture we're in," Ross said. "It certainly affected us. She's a great player for us. It had a negative impact, at the same time we've got to get to a place where our league is beneficial enough where they have hard decisions to make, I know she hated leaving.
"She felt terrible about it. That's the position we put them in. She has to do what she has to do from a business standpoint. I don't blame her at all. We've got to be able to as a league do more to help them financially."
With a win on Thursday over Washington, the Sparks will head into the All-Star break at .500 and hold a three-game lead over fifth place Seattle for the final playoff spot in the West.
"We've had problems peaking too early in the season and not accomplished our main goal of winning a championship, so maybe peaking later now will help us," Toliver said. "If we stay the course and competitive we're one of the best teams in the league and we're still most feared in the league. We're not too concerned about our record."
___
Follow Doug on Twitter at http://www.twitter.com/dougfeinberg