Little League World Series honors Mariano Rivera as Mexican team advances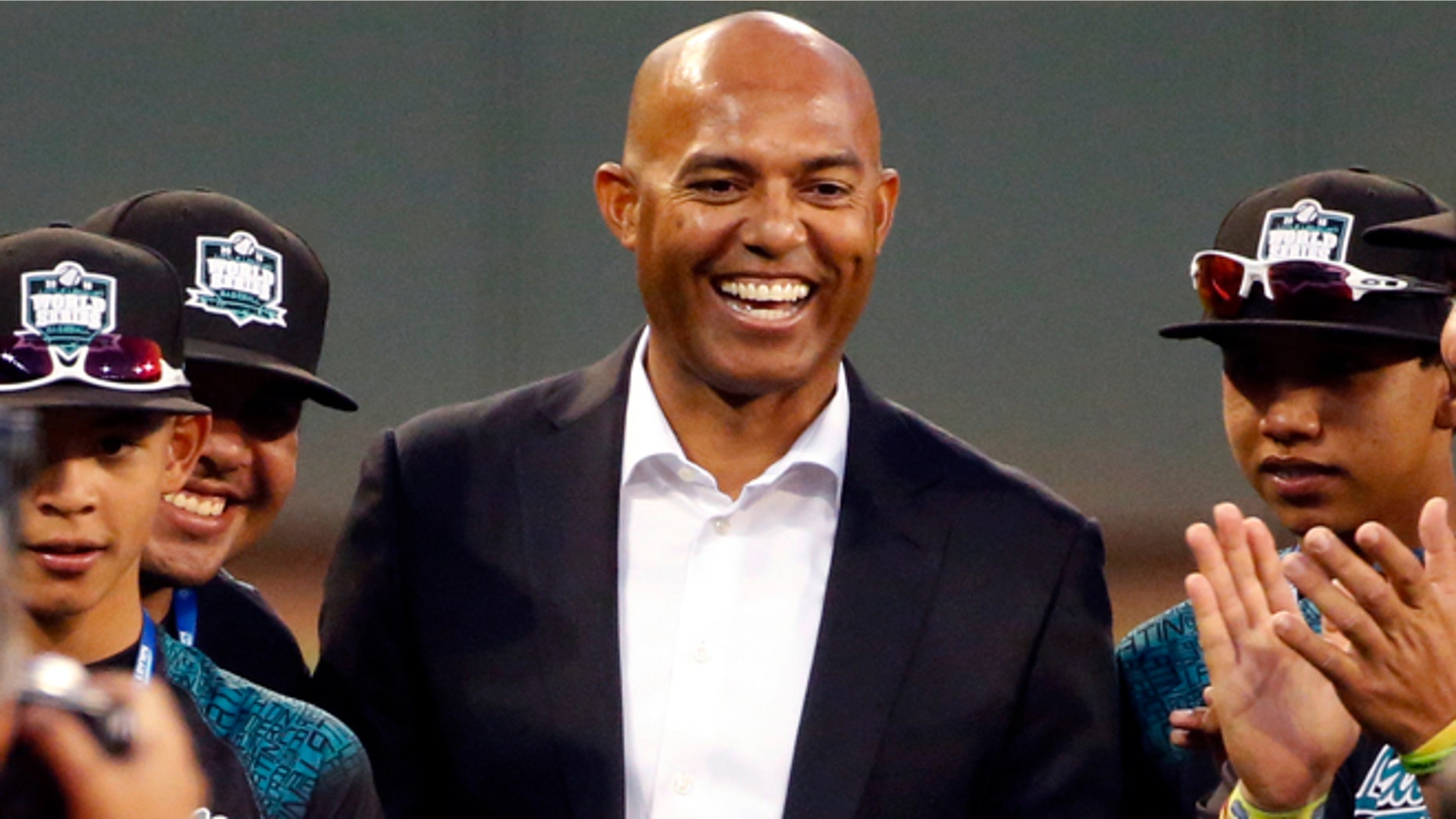 SOUTH WILLIAMSPORT, Pa. (AP) – Mexico catcher Raul León, three teammates and their manager were waiting in the narrow hallway for their turn at the interview room inside Lamade Stadium. They spotted one of baseball's greatest players walking toward them.
Yes, it was Mariano Rivera. They had to get a photo. But who would take it?
Just then, the manager of the Taiwan team they had just eliminated with an 11-1 victory exited the interview room and offered to snap the group shot.
Perfect.
"That's what it is all about," the record-setting Yankees closer said Tuesday. "Competition. Nothing personal, just competition."
Rivera hung around to get inducted into the Little League Hall of Excellence, throwing a ceremonial first pitch to Bowling Green, Kentucky catcher Jonah Thurman — a perfect strike, of course — before the night game.
That was the only good moment for the Kentucky team, which committed four errors while getting eliminated by Bonita, California 11-3. By that time, Mexico was relaxing and waiting to find out who comes next in its bracket.
They hope it's Japan.
León, the cleanup hitter for Mexicali Baja California, had three hits and drove in five runs as Taipei, Taiwan was eliminated. Mexico gets a day off before playing the loser of a game between undefeated Japan and Venezuela on Wednesday afternoon. Mexico lost to Japan 3-1 early in the tournament.
Asked which team he'd rather face, manager Jorge Joel Armenta didn't flinch: "We want to play Japan. We want the revenge."
Their catcher played the biggest role in getting them in position for a possible rematch, playing a bit like his hero in the major leagues.
León drove in only one run during Mexicali's first three games. On Tuesday, he homered in the first inning for a 3-0 lead, spreading his arms in celebration as he rounded the bases. In the second inning, he came up with the bases loaded and singled sharply to center field for two more runs during a four-run rally. He finished 3 for 3 overall.
The catcher who led the way was asked which catcher he admires most in the majors. "Yadier Molina, because he's the best catcher in MLB," he said quickly, referring to the St. Louis Cardinals' All-Star.
As Mexicali celebrated the big early lead, Taiwan started to feel the pressure.
"It made our players nervous, giving up those hits to Mexico," manager Min Nan Lai said. "We became anxious and that was the biggest reason we could not win this game."
Armando Verdugo allowed one earned run and six hits in five innings, striking out six.
It wasn't all hitting and pitching. Mexicali second baseman Andrés Villa made a smooth play when he scooped a grounder with his glove to the shortstop to start a double play in the second inning.
Villa hit a two-run homer in the fifth, and Ernesto Ríos followed with another drive.
"This was like a final for us," Villa said. "I knew I had to win it."
After throwing his ceremonial pitch before the night game, Rivera agreed to Bonita's request to autograph its batting helmets.
"He inspired us really well," said Antonio Andrade, who homered. "He's a major league player, one of the best I've ever seen in my lifetime."
During his induction, Rivera said he remembers his Little League days fondly. Although Rivera's 1985 Panama team didn't reach the World Series, he loved his time in youth baseball.
"I was happy with what I had, and I didn't have nothing," Rivera said. "But what I had was the game of baseball."
One other thing.
"I hated to pitch," admitted Rivera, who was primarily a shortstop on his Little League team. "I didn't like to pitch because you had to sit. I was playing all the positions.
"All the Little Leaguers, they pitch. But I didn't like it. Figure it out, huh?"
Rivera retired after the 2013 season with a record 652 saves. Like John Smoltz, who warned parents about youth injuries during his Major League Baseball Hall of Fame induction speech.
"We have to protect our kids," Rivera said. "Those kids are throwing too much, especially in their leagues. That's unacceptable. At the age of 15, they're already having a big surgery. That can't happen.
"We have to teach the boys how to pitch, how to use that plate. They don't necessarily have to throw all kinds of breaking balls. Use your fastball and learn how to use it. That's to me the No. 1 pitch in the big leagues, and it has to be the No. 1 pitch in Little League."
Asked for the best advice he gives to young baseball players, Rivera said, "My best piece of advice I can give them is to stay in school. Any sport, we have injuries. An injury can cut your career short, and then what?"
Bonita will play the loser of the game on Wednesday night between Texas and Pennsylvania. The winner of that game advances to the championship of the U.S. bracket.
Like us on Facebook