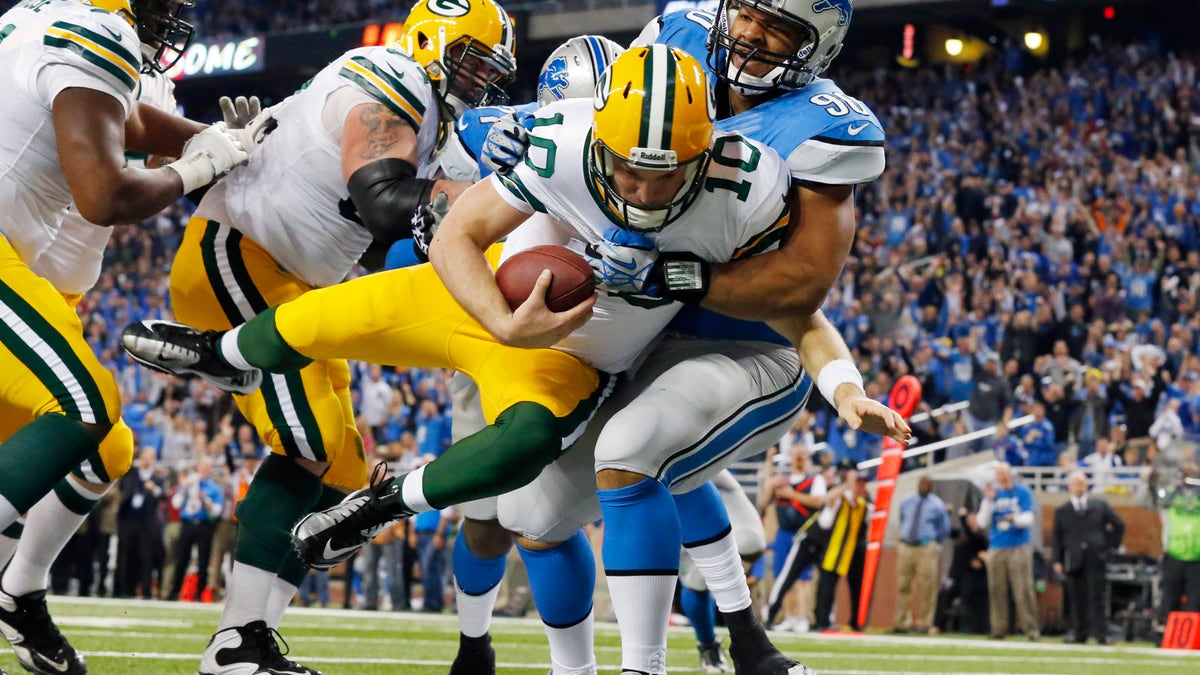 DETROIT – When the Detroit Lions drafted Ndamukong Suh and Nick Fairley in back-to-back years, this was the type of defensive line they envisioned.
The Lions were in Green Bay's backfield all game Thursday in a 40-10 win over the Packers that at least momentarily silenced many of Detroit's doubters. The Lions had seven sacks and allowed only seven first downs. Green Bay finished with 126 total yards.
"It's just a performance we always believed we could have. You could say it was a dominating performance," defensive tackle C.J. Mosley said. "We've got to string performances like this together. I wish the score had been 40-0."
Green Bay's only touchdown came on a fumble return. So the Detroit defense allowed only three points, while scoring two on Suh's third-quarter safety.
It was an impressive game for Suh, the No. 2 pick in the 2010 draft. He's been a star for a while, but his Thanksgiving history was ugly — he was ejected two years ago for stomping at a Green Bay player.
This time, Suh and the Lions showed a national audience just how dominant they can be. That was after Green Bay offensive lineman Josh Sitton had called Detroit's defensive players "dirtbags" in an interview this week with Milwaukee radio station WSSP 1250.
"A lot of people have their opinions. People have opinions about me," Suh said. "We just go out there and play. It really doesn't mean anything to our defensive line, let alone the rest of our team and coaches."
Fairley, the 13th pick in the 2011 draft, has teamed up with Suh in the middle of Detroit's defensive line, but the Lions are getting contributions from seemingly everyone up front. Devin Taylor and Ziggy Ansah, two rookie defensive ends, had two sacks apiece Thursday.
"We were just getting after it and playing good, old-fashioned football. We have to have that week in and week out from those guys," Lions quarterback Matthew Stafford said. "When we do, our defense is pretty good."
Coach Jim Schwartz didn't make too much of Sitton's comments, but he was impressed with how his defensive players handled themselves.
"A couple years ago, we were easily sidetracked. I think there were some teams that sort of baited us into some fouls and things like that and we didn't always respond in the best way," Schwartz said. "I think we have grown as a team."
In the last five games, Detroit has lost the turnover battle 17-4, but still won three times. That's made for some exasperating moments, but it also underscores how good the Lions can be when they don't beat themselves.
"You can't be frustrated by it. It's a long game," Schwartz said. "Like I said, no game is ever perfect. There is always something that happens in a game that you need to be able to do a little bit better. In this game, there were a couple of those things. That doesn't take away from the fact that I think our guys responded well and they played well."
Next week, the Lions will be tested again when they travel to Philadelphia to face the Eagles' fast-paced offense. First, Detroit can savor this victory.
The Lions had dropped nine straight games on Thanksgiving, and after a turnover-filled loss to Tampa Bay last weekend, Detroit fans were growing anxious that this talented team was beginning to let its season slip away.
Perhaps the Lions play better when they're hearing the doubters.
"We are not going to take that foot off the gas," center Dominic Raiola said. "There is no relaxing. We have a big game with Philly coming up, but we are going to enjoy this one."
___
AP NFL website: www.pro32.ap.org