Leicester City lost this epic playoff match exactly 3 years ago today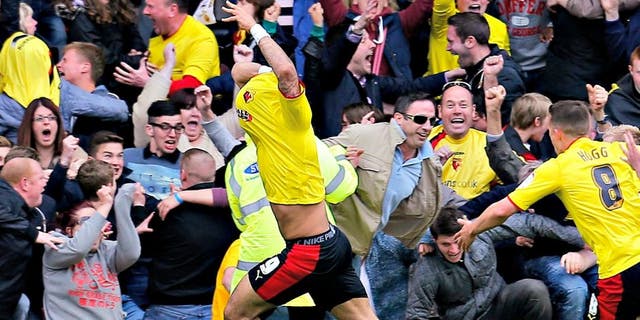 On this day in 2013, Watford and Leicester City played one of the most incredible playoff matches in recent history. (Yes, just three short years ago the current Premier League champions were fighting for promotion -- and lost the playoff!)
The stage was Vicarage Road, and the start of the second leg of the Football League playoffs saw Watford trailing by one goal on aggregate. A pair of Matej Vydra goals on either end of David Nugent's 19th minute strike had both sides knotted up, 2-2 on aggregate.
Extra time loomed as stoppage time ticked down, and that's when everything really went nuts. Strap yourselves in for some of the craziest three minutes the beautiful game has ever seen:
Utter madness. Anthony Knockaert's dive in the box earned Leicester a penalty, which, if converted, would send the Foxes to Wembley for the playoff final. But Manuel Almunia saved the spot kick -- twice! -- and Watford were on the break.
Roughly 20 seconds later, after facing certain doom and staring at a gut-wrenching loss, Jonathan Hogg rose to meet Fernando Forestieri's cross in the Leicester box and nodded it down outside the six-yard box. Then, in a moment of pure magic, Troy Deeney walloped home past Kasper Schmeichel ... firing Watford to Wembley and sending Vicarage Road into an absolute frenzy.
Watford's quest for promotion ended at the hands of Crystal Palace in the final, but the semifinal remains the stuff of legend. And besides, everything turned out just fine for both parties. The Hornets secured promotion last season and sit comfortably mid-table in the Prem right now. And Leicester? Well, we know how they wound up.
MORE FROM FOX SOCCER: