LeBron James is upset with a beer company for using his likeness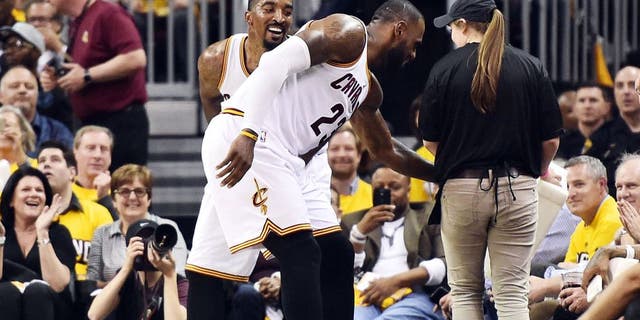 A moment of levity by LeBron James has apparently turned into a dispute with beer company after the Cleveland Cavaliers star discovered that Great Lakes Brewing Co. used James likeness to promote one of its lagers.
A day after James swiped a bottle of Great Lakes brew during the Cavs win over the Raptors on Monday, the company used a picture of James in two tweets that have since been deleted to market Dortmunder Gold.
The Cleveland beer company also developed and sold a flavor shortly after James left the Cavs for the Heat in 2010 dubbed Quitness, which was described as a dry hopped India pale ale that leaves a bitter aftertaste, perfectly describing the mood of Cleveland sports fans these days.
James didnt sound too thrilled about the situation ahead of Wednesdays Game 2 against the Raptors.
"This is about the last thing I'm trying to worry about right now, my agent and my legal team will take care of it, but yeah I know (Great Lakes) is trying to benefit off of me," James told Cleveland.com. "And I heard they were the same company that made all those 'Quitness' beers, and now they're trying to benefit off me this way? Yeah, it's pretty funny."
According to Cleveland.com, James and his associates were considering legal action against the company. ESPN reported that the tensions between the two sides had subsided after the company had taken down the tweets.
Kyle Terada-USA TODAY Sports | Kyle Terada