LeBron, Heat spoil Rose's return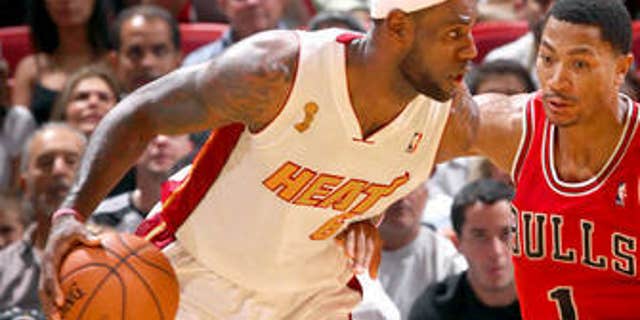 Derrick Rose has a fan base of millions that has been awaiting his return for the better part of a year and a half. When the most powerful man in the world took time out to wish the Bulls' franchise player well, it was clear just how big his return against the Miami Heat on Tuesday night would be.
Welcome back, @DRose . #BullsNation
-- Barack Obama (@BarackObama) October 29, 2013
Well, it's nice and all to have a president's welcome, but it must be sour to have a king spoil your return.
Rose looked rusty in his return while LeBron James looked like ... well, LeBron James.
Rose went 5-of-14 for 12 points with four assists and five turnovers while James led the defending champs to a 107-95 victory, going 5-of-11 for 17 points with eight assists, six rebounds and only two turnovers in a game that could be a preview of the Eastern Conference Finals.
"If anything, I'm disappointed in the loss," Rose said. "My performance, I can easily change that by making shots and keep down the turnovers."
Rose was MVP in 2010-11 and his first basket was a pretty one...
... but then he got crossed over by Norris Cole. Yikes!
Look, when you're gone for a while, things change. Apparently Rose thought that despite being gone for more than a year, he still could call himself the best player in the league. (Whoever said he was the best player before he left?) Yeah, this is what he said just a month ago (34 seconds in):
C'mon, man. Nobody is expecting you to say 'Bron is the better player, but if you're going to talk like that after a guy has won two rings in a row to go along with two MVP awards in a row and put up career numbers last season, you're going to have to deliver the first chance you get. Period.
James has been the most dominating player in the league for the better part of three years or longer, and still is, but there is still good news for Rose and the Bulls: When Rose is back to his old self and the team chemistry returns, Miami can be beaten.
Yes, it would have been a bigger statement to air out the Heat on the road the night they received their rings, but this was only the first game of the season. If anything, it served as a reminder that if Chicago has championship aspirations, this is the team it will have to get through.
Rose needs to lead Chicago offensively and create a rhythm that can flow to the point where his teammates can carry the scoring load when he can't. Carlos Boozer looks ready, with a game-high 31 points.
Their defense is already there, but they need to get a steady offensive game going instead of chucking up 26 shots from beyond the arc with only seven dropping as they did Tuesday night. That won't work.
With two teams who now publicly don't like each other, this is going to be a must-watch rivalry all season. The two teams will meet again Dec. 5 in Chicago. You can bet D-Rose will not have the same stat line that night.
The Associated Press contributed to this report.
Follow Nick Creegan on Twitter
The original article can be found at FOXSports.com: LeBron, Heat spoil Rose's return.