Leap Day has given us a notable roster of big sports events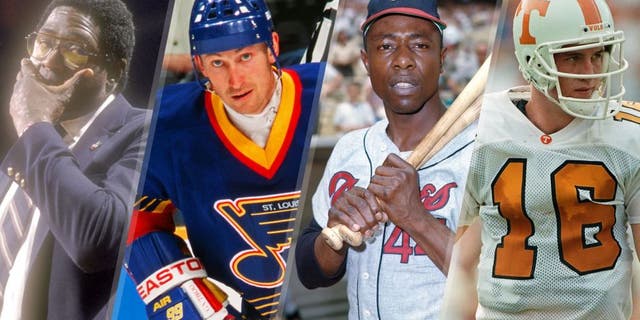 When we talk about how long it takes the Earth to orbit the sun, we generally say it takes 365 days, but if you really want to get technical, it actually takes 365 days, 5 hours, 48 minutes, and 45 seconds. As a result, we usually (but not always) end up with one extra day in the calendar every four years to bring things back to even.
That day is Leap Day, celebrated on Feb. 29. And while its place in the calendar (after football ends and before baseball begins) doesn't necessarily lend itself to tons of sports news, there have still been several high-profile moments to fall on Feb. 29 over the years. So in honor of today's date, here's a look back at nine of the biggest Leap Day sports stories of all time:
Gordie Howe's 800th goal
The oldest player in NHL history, Howe's legendary career started in October 1946 with the Detroit Red Wings and lasted until April 1980, when he played his final game with the Hartford Whalers at age 52. During his three-plus decades in the sport, the man known as Mr. Hockey set numerous NHL records, and on Feb. 29, 1980, Howe became the first player to ever score 800 career NHL goals, hitting the mark in a 3-0 win over the St. Louis Blues. Howe finished his lengthy career with 801 regular-season NHL goals (plus another 174 in the World Hockey Association), a mark that stood until March 1994, when Wayne Gretzky took over the top spot.
Wayne Gretzky's Blues debut
Speaking of Gretzky (and the Blues), most remember The Great One as an Edmonton Oiler or a Los Angeles King, or maybe even as a New York Ranger. But few will immediately recall his stint with St. Louis at the end of the 1995-96 season. On Feb. 27, 1996, the Kings sent the disgruntled 35-year-old Gretzky to the Blues for three players and a pair of draft picks. Two nights later, on Feb. 29, Gretzky made his Blues debut in Vancouver, scoring a goal in a 2-2 tie with the Canucks. This year's trade deadline happens to fall on Leap Day, but it's unlikely we see any trades involving a player as legendary as Gretzky, who finished his stint with the Blues with 10 goals and 27 assists in 31 total games, including the playoffs.
BCS adds a fifth game
Aside from the NFL Combine, there's generally not much to talk about in the world of football in February, but there have been a few exceptions on Leap Days over the years. Back on Feb. 29, 2004, it was the Bowl Championship Series that made news when it announced it would be adding a fifth bowl in addition to the Orange, Sugar, Fiesta and Rose Bowl games. It wasn't until the end of the 2006-07 season that a fifth bowl was finally added with the debut of the BCS National Championship Game. Then after eight bowl seasons under that format, the BCS era came to an end following the 2013-14 championship.
Peyton Manning assault accusation
On Feb. 29, 1996, Tennessee Volunteers quarterback Peyton Manning allegedly committed a sexual assault on Jamie Naughright, then the school's director of health and wellness, while she examined Manning's foot for a stress fracture. Though the alleged event dates back 20 years, it didn't truly become big news until recently, when the New York Daily News reported on several documents associated with the case and subsequent settlements. Neither Naughright nor Manning have spoken publicly about the incident since the Daily News brought the claims to light, however Manning has previously denied any wrongdoing.
Jerry Lucas snags 40 rebounds
Only four players in NBA history have ever pulled down 40 rebounds in a single game, and former Cincinnati Royals and New York Knicks forward Jerry Lucas is the only non-center in the group. The former Ohio State standout accomplished the feat during his rookie season with the Royals, grabbing 40 rebounds to go with 28 points in a 117-114 win over the Philadelphia 76ers on Feb. 29, 1964. Wilt Chamberlain, Bill Russell and Nate Thurmond round out the 40-rebound club, and at this point it's a group that's unlikely to ever grow any larger. In fact, in the last 20 seasons, only Kevin Love and Andrew Bynum have even had a 30-rebound game.
Nets hire Willis Reed
Though best remembered as the league MVP and all-time great who inspired the New York Knicks to a win in Game 7 of the 1970 NBA Finals, Willis Reed also had a respectable post-playing career as a coach and GM. Reed's first foray into coaching came with the Knicks in 1977 and '78, followed by four seasons as the head coach at Creighton University. After that, Reed returned to the pros as an assistant coach with the Atlanta Hawks and Sacramento Kings, and on Feb. 29, 1988, Reed left Sacramento to fill the New Jersey Nets' coaching vacancy. Reed went 33-77 with the Nets before stepping down from coaching for good, and from 1989 to 2004, he remained with the team in an executive role.
Conviction in murder of Michael Jordan's father
In July 1993, Michael Jordan's father, James Jordan, was shot to death in his car as he took a nap after pulling off a North Carolina highway. Seven months later, Jordan and his family got something in the way of closure when 21-year-old Daniel Andre Green was convicted of the murder on Feb. 29, 1996. Green's co-defendant, Larry Martin Demery, had previously pled guilty to first-degree murder in April 1995. As of last year, Green was still fighting for a new trial.
Hank Aaron gets paid
Given the size of pro baseball contracts today, it's hard to believe that $200,000 ever seemed like a lot of money, but on Feb. 29, 1972, Atlanta Braves slugger Hank Aaron became the richest player in the sport's history when he signed a three-year, $600,000 contract to remain with the team. At the time, Aaron was sitting on 639 career home runs, 75 behind Babe Ruth's record, and on April 8, 1974 -- the fourth game of the third year of that contract -- Aaron passed Ruth with No. 715. Aaron eventually finished his career with 755 homers, a mark that stood until 2007 (with some claiming Aaron should still be the rightful owner). Not bad for a guy making less than half of the current league minimum.
Birthdays
There's no less common birthday than Feb. 29, with odds at just 1-in-1,461 that a child is born on Leap Day. However, there have still been several pro athletes over the years who have been born on February's quad-annual bonus day. In the NBA, there have been three players with Feb. 29 birthdays to take the court, with Chucky Brown the most recent, and in Major League Baseball, there have been 12, with old timers Al Rosen and Pepper Martin the most famous of the bunch. In the NHL, Carolina Hurricanes goaltender Cam Ward is the only active player with a Feb. 29 birthday (there have been eight overall, including Simon Gagne, who retired before this season), and in the NFL there have been 19 Leap Day babies, with Minnesota Vikings linebacker Eric Kendricks the only active player celebrating a Feb. 29 birthday. He's either turning 24 or 6 this year, depending on who you ask.
You can follow Sam Gardner on Twitter or email him at samgardnerfox@gmail.com.