Latos critical of Mattingly's short leash as he remains winless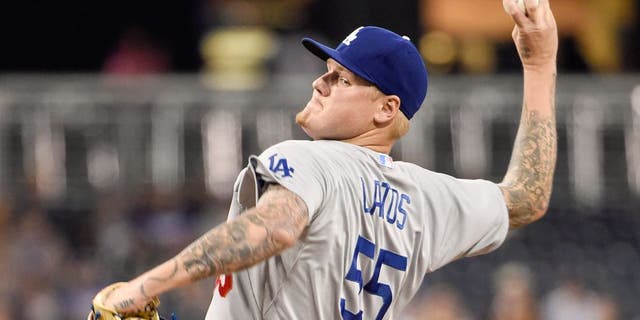 For his fourth-consecutive start as a member of the Los Angeles Dodgers, Mat Latos didn't make it to the fifth inning, a footnote he was well aware of after the Dodgers' 10-7 loss to the San Diego Padres on Thursday.
As he searched for his first win in five starts with the Dodgers, Latos allowed eight hits and four earned runs in four innings.
Manager Don Mattingly pulled the right-hander from the game after the fourth, a move about which Latos expressed his displeasure following the game.
"It's hard to get into a rhythm," he said. "I kind of settled in, put up two zeros up on the board, found my release point. By the time I do that, I'm already out of the game."
Since coming to Los Angeles in a trade-deadline deal from the Miami Marlins, Latos has posted an 0-2 record with a 6.56 ERA and 16 strikeouts against six walks in five starts.
Although the Dodgers acquired Latos to help them in the pennant race and in the postseason, he has yet to show his value to the team, which puts decision-makers like Mattingly in a tough spot heading into October.
"I'm sure it's something we talk about," Mattingly said of Latos' future in the rotation.
(h/t Los Angeles Times)