Larry Mac believes Logano-Kenseth incident just hard Chase racing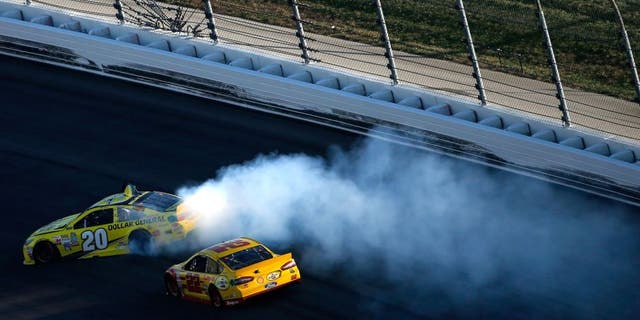 NEWYou can now listen to Fox News articles!
I am a very, very huge Matt Kenseth fan. I always have been. I am also a very, very huge Joey Logano fan. I always have been. I've watched Joey literally grow up. He and my son Brandon used to race Bandolero cars against each other when Joey was six or seven years old.
Setting all of that aside, I absolutely do not see anything wrong that went on there at the end of the race Sunday at Kansas. Naturally, Matt doesn't see it that way and trust me, I totally get it. The man was desperate to get the win to guarantee that he and his team moved onto the next round of the Chase.
I feel Matt did everything he should have done to try to win that race. At the same time, I think Joey Logano did everything he should have done to protect his turf. The reality is that it was five laps to go. It was two drivers trying to win a race and our sport has been missing situations like we saw Sunday.
Let me put it another way, what do you think Dale Earnhardt Sr. would have done to Matt Kenseth with five laps to go? What do you think Rusty Wallace would have done? What do you think David Pearson, Darrell Waltrip or Cale Yarborough would have done?
I know what they would have done. I've seen them do it. We simply haven't seen a lot of this in our sport lately. Believe me, I hate it for Matt because now he basically has to win at Talladega on Sunday or his Chase dreams are over. I'm just being honest here, this is what has been missing from our sport and I was excited to see it.
Let's face it, the racing has not been good lately. I'd be lying to you and myself if I tried to tell you otherwise. So I didn't see anything wrong with what I saw happen between Matt and Joey.
I think what gets lost in the shuffle, is there was a lot going on between those two drivers roughly a couple laps earlier than what happened there at the end in Turn 1 when Matt got spun. I think to be fair to Joey, folks need to review that before automatically condemning him for the Turn 1 incident.
What is ironic is if you rewind the clock 52 weeks ago at Charlotte Motor Speedway, you have Matt Kenseth in an incident with Joey's teammate Brad Keselowski. For those of you that want to jump to conclusions and say the common denominator is Matt Kenseth, well you would be dead wrong.
The common denominator is the second race in the most intense, stressful, dramatic round outside the finale at Homestead.