Lamb goes out like a lion for UConn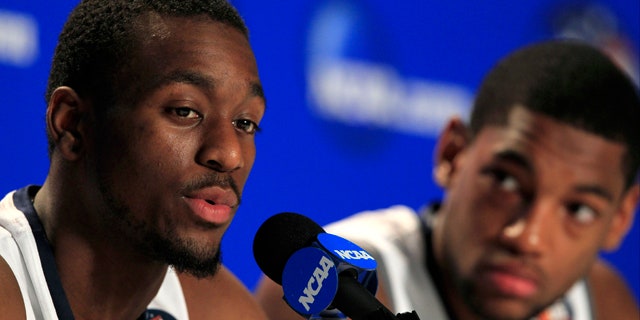 HOUSTON – Jeremy Lamb spent the first part of the season getting called back to the bench, too inconsistent for coach Jim Calhoun to keep him in games.
The skinny freshman with the arms of a 7-footer came through when the grizzled coach needed him most, providing a lift while star teammate Kemba Walker struggled to find his shot in the national championship game.
Lamb scored nine of his 12 points during a key second-half spurt and UConn pulled away from there to beat Butler 53-41 Monday night for its third national title.
A spotty performer during the regular season, Lamb came alive in the postseason, providing a 1A option to the All-American Walker.
The 6-foot-5 guard with a 7-foot-4 wing span hit the biggest shots of the game against Arizona in the West Regional final and came through again in the national title game, giving Calhoun another reason to forgive Lamb's father for a shot he made 27 years ago.
In a season filled with heralded freshman, Lamb was almost an afterthought. He wasn't even the highest-rated Lamb in the country — Kentucky's Doron Lamb was.
The native of Norcross, Ga., wasn't highly recruited until he started putting up a few points for a new AAU team, and had a rough start to his freshman year in Storrs.
Lamb learned his lessons, though, and came alive down the stretch of the season for the Huskies (31-9), boosting his scoring average from 10.8 in Big East play to 16.0 in the postseason.
Lamb's father, Rolando, sent Calhoun home with a last-second shot for VCU in the 1984 NCAA tournament, which the coach said he forgave after the slender freshman hit two big jumpers against Arizona.
Rolando Lamb can certainly rest easy now after his son helped Calhoun become the oldest coach to win a national title at 68.
Lamb and the Huskies didn't look like they were going to get there at first.
Lamb was a nonfactor in the ugly first half of the title game, missing both of his shots to go scoreless. Walker was struggling, too, scoring seven points on 3-of-11 shooting.
Walker still couldn't find his shot early in the first half — he finished with 16 points on 5 of 19 overall — so Lamb took over.
Much more aggressive to start the second half, Lamb hit a 3-pointer to give UConn the lead, then poked the ball away for a steal that set up a breakaway dunk. Lamb followed with an alley-oop to put UConn up 37-28 and the Huskies kept the lead at double-digits for most of the half, sending Butler home with another title-game loss and the national championship trophy to Storrs.