Kevin Sumlin says he's communicated with Johnny Manziel after months of silence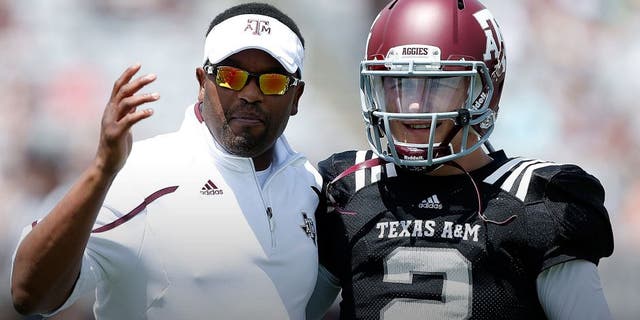 NEWYou can now listen to Fox News articles!
It's been a whirlwind few months (or years, really) for Johnny Manziel, but there have been signs of hope recently that the former Texas A&M and Cleveland Browns quarterback is starting to clean up his act. Most importantly, after claiming Manziel that he would get sober starting July 1st, Manziel has stayed out of the news. That doesn't mean that things are 100 percent back to normal, but it is a step in the right direction.
Another good sign is that he is apparently re-connecting with people from his past, and as we learned Tuesday at SEC Media Days, that includes his former college coach, Kevin Sumlin.
Sumlin was asked if he has spoken with Manziel lately and said they had texted. Sumlin was coy with other details, for obvious reasons, but did provide a little detail.
"That's (the text messages) the extent of it," Sumlin said, with the quotes coming from the Bryan-College Station Eagle. "Look, here's the bottom line. He's an Aggie and he's always going to be an Aggie. At Texas A&M, we take care of each other."
He continued.
"We're always going to be here for him. I'm always going to be here for him. That communication over the last couple of weeks has been a little more frequent and we'll see where it goes."
While the quotes themselves might not seem like much, they are actually a very positive step in the right direction for Manziel's overall health and recovery. Remember, it was just a few short months ago that Johnny Football had no contact at all with his former college coach, despite Sumlin's repeated attempts to reach out, so the fact that they're talking at all has to be taken as a good sign.
Another interesting Manziel related tidbit also came courtesy of the Aggies' current star Myles Garrett, who was also in attendance in Hoover this week.
He was asked about Manziel as well, and gave a fascinating answer about how watching the former Aggie has helped him learn how to better deal with the media.
"Everything he does is seen with a brighter light than anyone else, because he does have more cameras on him than the average person," Garrett said. "I don't think he's a bad person. He's just done some things he shouldn't have and he needs to learn from it."
Clearly there's a lot of stuff going on in Manziel's personal life that we, as the public, simply aren't privy to. And there's certainly a lot that needs to continue to happen for Manziel to get his life back on track, let alone, every play football again.
At the same time, it's nice to see that some of those who really care about him are stepping up, and doing what they can to help.