Kevin Sumlin missed out on playing himself in The Blind Side movie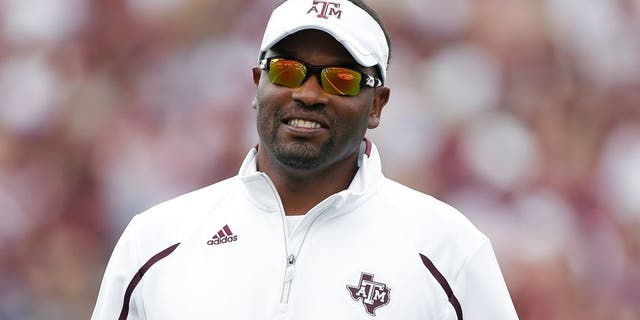 Sumlin claims he should have been in The Blind Side next to Phillip Fulmer. Scott Halleran Getty Images
The weekly SEC coaches teleconference is typically reserved for injury news, schematic strategy discussion, playcalling and other coach's decisions from either the week before or in anticipation the week ahead. However this week, Texas A&M head coach Kevin Sumlin took a moment to discuss his would-be acting career.
When asked to discuss his friendship with fellow SEC coach and rival Hugh Freeze of Ole Miss, Sumlin revealed their relationship goes back much further than most people realize.
Sumlin met Freeze during a recruiting trip to Briarcrest Christian in Memphis, Tennessee - where Freeze was the head coach at the time. The Aggies coach, who at the time was an assistant under Bob Stoops at Oklahoma, was in to see Michael Oher. Sumlin was alongside then-Tennessee head coach Phillip Fulmer, the practice was the inspiration for a scene in The Blind Side film.
Unfortunately for Sumlin, he did not get a chance to portray himself in the film.
"They have that one [scene] where Michael's got all these assistant coaches and Phil Fulmer and there's a guy in the Oklahoma hat," Sumlin said. "And I usually like to tell my kids, 'see that's me, but not really me in the movie.'"
While Sumlin's acting career never materialized, things worked out well for both Freeze and himself, as they both made it to the SEC as head coaches in 2012. Because they were both new to the scene at the same time, a friendship quickly developed between the rival coaches.
"We got in this league at the same time," Sumlin said. "I was the first guy up on the podium at the SEC media day right after [then-SEC Commissioner] Michael Slive. We kind of talked that night just about what to expect the next day and we've done things [together] after."