Kevin Sumlin: Johnny Manziel's 'gotta change' to make it in the NFL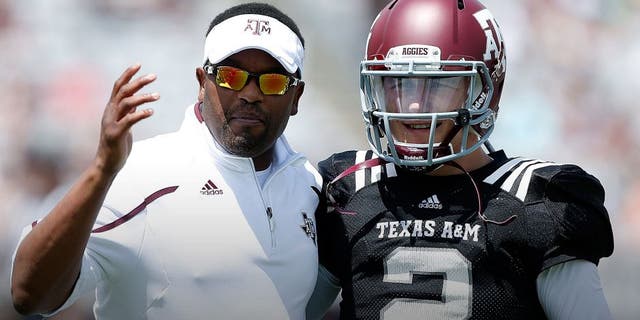 If there's one person who's sat staunchly in Johnny Manziel's corner since his troubles began, it's Kevin Sumlin.
Texas A&M's head football coach has supported his former quarterback through all the publicity, good and bad, dating all the way back to the "Johnny Cam" and as recently last year, when he praised Manziel's decision to enter rehab.
Now, Sumlin remains on Manziel's side, but his concern about the quarterback's wellbeing seems to run deeper than ever.
During an appearance on The Audible with Bruce Feldman and Stewart Mandel on Monday, the Aggies head coach said he's worried about the self-perceptions building in Manziel's head and stressed Johnny's need to change if he hopes to convince an NFL front office he's worth the time.
Pro football is a job. I know form his competitive nature he loves the game. Wthout a doubt, there's a lot of things going on in his life that if he's serious about playing professional football he's gotta change. Whatever that perception is has become reality for him, and he's gotta look that in the eye and say, 'Alright, here's a situation. Here's what people think ... What are the issues right now?' He's gotta address those.
Currently a free agent, Manziel was last seen partying in Vegas with celebrity chef Mario Batali.
It's not great optics for a guy who may or may not have missed team meetings last season while partying on the Strip in a blonde, very-not-incognito wig.
Dan is on Twitter. When the optics and the product are bad...well, that's one thing the NFL won't abide.