Kevin Garnett reportedly is contemplating retirement ahead of 22nd season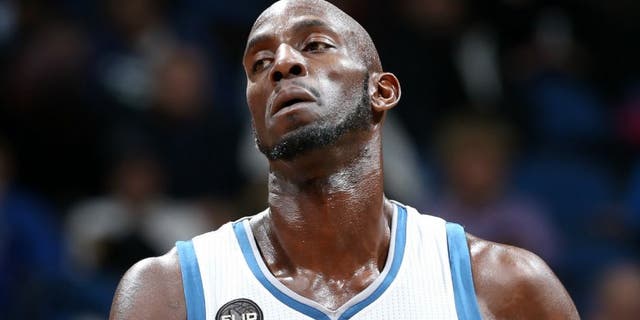 NEWYou can now listen to Fox News articles!
We might have seen the last of Kevin Garnett on an NBA court.
The 21-season veteran who was drafted fifth overall out of high school in 1995 could be the next hoops legend to call it a career.
When questioned by NBA.com's Steve Aschburner about his future, the 40-year-old Garnett was non-comital to the idea of playing next season.
Garnett averaged just 3.2 points, 3.9 rebounds, 1.6 assists and 0.3 blocks per game in 38 games for the Minnesota Timberwolves, with whom he is under contract for $8 million for the 2016-17 season. He also averaged only 14.6 minutes per game as knee injuries plagued him all season.
Over his 21-season career, he has averaged 17.8 points, 10.0 rebounds, 3.7 assists and 1.4 blocks per game for the Timberwolves, Boston Celtics and New Jersey Nets. The 15-time All-Star, 2003-04 NBA MVP and 2007-08 Defensive Player of the Year won an NBA championship with the Celtics in 2008.
If he returns for a 22nd season, Garnett would set the record for the longest NBA career.