Kevin Durant doesn't deserve your hate for joining the Warriors to win a title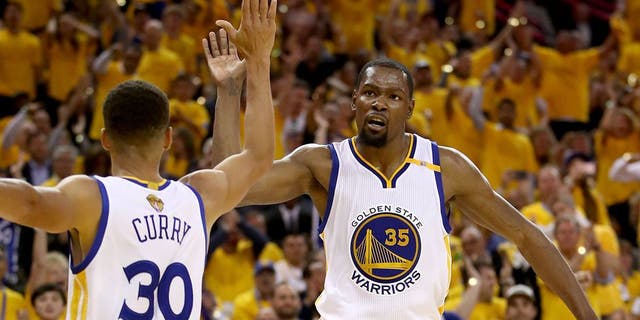 NEWYou can now listen to Fox News articles!
Kevin Durant did what you presumed he would do.
After joining the Warriors following that team's 73-win season and historic Finals loss, he led the way in Golden State's 2017 championship run.
The criticisms of Durant's move to Golden State are as plentiful now as they were last July, when he announced the shock move to the Bay Area. The realization of those critics' worst nightmares has perhaps even intensified that distain the Warriors went 16-1 in the postseason after a 67-win season, and there's no reason to think that they won't be better in 2018 or 2019.
The complaint was that it was too easyDurant took the best team in the NBA and immediately cemented their place as a dynasty. And why? Because he wanted a ring immediately? Because it was too hard in Oklahoma City?
The rationales are a dime a dozen.
And they don't hold up.
Getty Images
Hate Kevin Durant for taking the easy route all you want, but if that's your point of contention, don't also perpetuate a culture of "rings over everything" -- a culture that has infested the NBA in recent years; a culture that makes "LeBron or Kobe" a point of contention at the same time.
You can't have it both ways.
And don't project your expectations onto Durant either you can't tell him what it means to win his first championship.
We've been blessed in recent years to see incredible moments of achievement. Moments that everyone could understand. Moments of incredible drama and emotion.
Everyone could get behind Dirk Nowitzki winning a title with the Mavericks in 2011 after so many heartbreaks. And when LeBron won the title with the Cavs last year, we understood how much it meant to him and the city of Cleveland. There was deep context, and it makes a season all the more rewarding when you know the journey wasn't just 82-plus games long.
But such rich context doesn't apply to every player. At least not in the way the national narratives might want you to believe.
Getty Images
Durant willingly left Oklahoma City. He had his reasons, but he deliberately left a team that was one win away from the NBA Finals to go to Golden State. Don't presume that choice wasn't made without anguish.
And yes, it was an easier path, but you presume that was Durant's motivation. You presume that it would have meant more had he broken through and won with the Thunder.
That's a huge presumption.
Think about this: Durant was facing what might have been a no-win scenario, from his perspective. The 2017 NBA Finals MVP has never given an answer as to why he left OKC that has satisfied the populous, but when the Warriors recruited him, they were operating on the understanding that Durant felt as if the OKC roster was maxed out.
If that's the case -- if that's what he believed -- how could he appease those who believe that a legacy is decided by titles and those who believe that you have to take the righteous path to a championship, as arbitrary as that righteous might be?
Getty Images
The NBA is exceptional entertainment, but it's easy to forget that the characters on the TV show with live studio audiences are real people, with real emotions. Yes, they are preposterously tall and talented and rich, but that doesn't mean they're immune from influence and criticism.
Kevin Durant and the Warriors' dominance is good for the NBA. They've created a villian to help better sell the TV product (villains particularly "Super Villians" sell better than heroes) and a target that should force the rest of the Association to improve in grand ways.
But you can't forget the human side of it all.
You don't know what Monday night's title meant to Durant. And many, faced with the possibly that the "easy route" could mean just as much as the "hard road", won't care to acknowledge it. When Durant explained Monday how the title was a culmination of a life on the hardwood -- those predisposed to dislike him and the Warriors didn't take it in because it didn't fit their narrative.
Getty Images
Some will never be appeased. They don't want to be.
But you can remove the narrative. You don't have establish your own context. You can enjoy the fact that one of the best players in NBA history won his first of what could be many titles, and he did it by effectively carrying his team over the finish line.
And you can enjoy it when the Warriors dynasty falls a few years from now, however that might happen.
But don't presume. Don't project. And don't hold Durant -- or any player -- to impossible standards. Some people just want to be miserable. Kevin Durant is not one of those people tonight.