Kevin Durant didn't meet with the Lakers because they're a 'couple years away'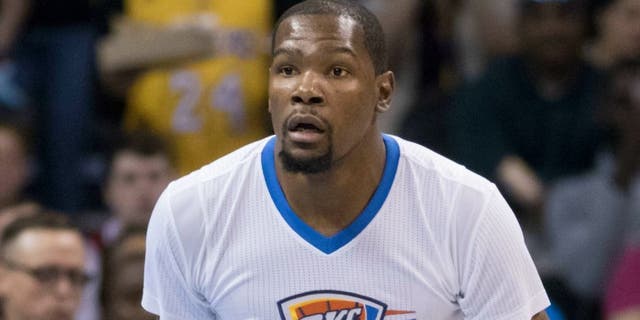 NEWYou can now listen to Fox News articles!
Six teams had the opportunity to have a face-to-face meeting with Kevin Durant this summer in the hopes of wooing him. But despite their illustrious history, the Los Angeles Lakers weren't one of the select few.
Durant opened up about the reason the Lakers didn't make the cut Monday following practice with Team USA.
"Nothing against the Lakers, but I already had my mind set on who I wanted to talk to," Durant said, via the Los Angeles Daily News. "I really respect their team. I just thought they were a couple years away from where I wanted to be."
Durant opted to meet with the Warriors, Clippers, Spurs, Heat, Celtics and Thunder when he was still making his free-agent decision.
The Lakers are coming off three consecutive sub-30-win seasons, giving Durant little reason to consider them a viable option. The four-time scoring champ has yet to win a title after nine years in the league, but that soon could change after he joined the Warriors this summer.
The Lakers are trying to build a young nucleus that they hope will appeal to future free agents. Hiring Luke Walton as head coach could be another enticing aspect the franchise can pitch to stars. But until they make major strides on the court, it might be tough to convince superstars to come to Los Angeles.