Kareem Hunt incident: Chiefs players react after win over Raiders
Kansas City Chiefs players discussed former teammate Kareem Hunt after their 40-33 win over the Oakland Raiders on Sunday.
Hunt was released by the team earlier this week after a video surfaced appearing to show Hunt's role in a February assault at a Cleveland hotel. Hunt was seen getting into an argument with a woman, while a few men try to hold him back. He later appears to push one of the men, knocking down a woman that Hunt said he did not know. He appears to kick her while she is on the floor.
"I saw the stuff that happened," Chiefs star quarterback Patrick Mahomes said, according to ESPN. "We don't do those things."
Mahomes added that he did reach out to Hunt, according to The Athletic.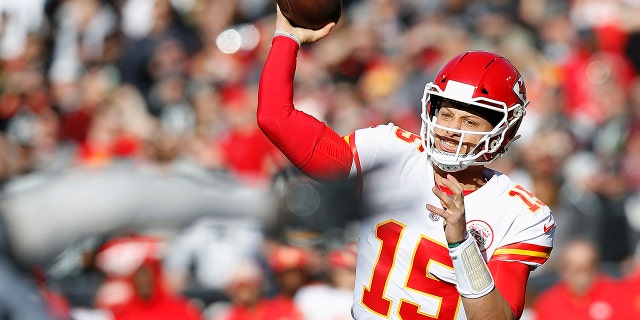 Chiefs coach Andy Reid mostly referred to the team's statement on Hunt. However, he did say the decision to release the team's leading rusher was tough.
"I don't want to get anything to distract from how tough a place this is to play [and] my locker room leadership overcoming the situation we had there, which can be a distraction, and [they] stepped up today in a place that we haven't always come out with this kind of result," Reid said.
Spencer Ware, who filled in for Hunt and had 47 yards rushing on 14 carries with a touchdown, told reporters he didn't contact Hunt after he was released, according to ESPN.
"We had work today. We had business to take care of. So we try to stay distraction-free over here. There's no try. You've just got to do it. We played hard. We had our mistakes. ... We won't let anything that happens on the outside dictate or control what we have inside," Ware said.
"We don't do those things."
Ware added that he considers Hunt to be his "brother," but the focus right now is to win a Super Bowl.
Hunt sat down with ESPN's Lisa Salters prior to Sunday's games getting underway. In the interview, he acknowledged lying to the Chiefs organization and expressed "regret" over the incident.
Fox News' Liam Quinn contributed to this report.