Justin Wilson's brother visits IndyCar paddock at Sonoma Raceway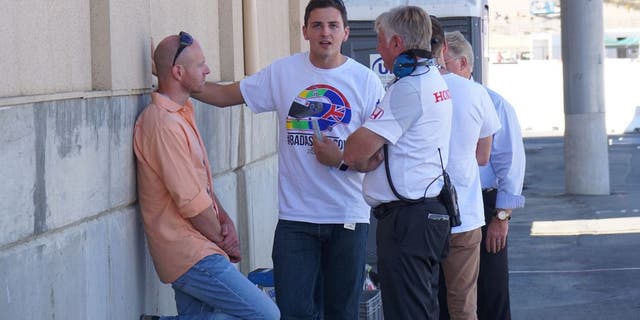 SONOMA, California - Just six days after his older brother, Justin Wilson, was killed during an IndyCar race at Pocono Raceway, Stefan Wilson made a visit to Sonoma Raceway on Saturday. Stefan Wilson, a 25-year-old aspiring Verizon IndyCar Series driver from Sheffield, England, appeared emotionally drained as he arrived with a group of close friends.
The INDYCAR community has embraced the Wilson Family during this tragic time following the death of 37-year-old Justin.
Among those who are reaching out to support Wilson's widow, Julia, and young daughters, Jane and Jessica, is American Honda and Honda Performance Development.
American Honda and HPD will contribute $50 per lap completed at Sonoma by each of the 13 Honda entries at this weekend's race for a possible donation of just over $55,000 to the Wilson Childrens' Fund.
"Justin was a valuable member of our racing program, but he also was our friend, and all of us at American Honda and HPD grieve together at his loss," said Art St. Cyr, president of Honda Performance Development. "We're hoping to honor his memory with this pledge, and hope that Justin's many fans and friends can also assist the family at this tragic time."
IndyCar Series veteran Oriol Servia, Wilson's close friend, will now have the responsibility of driving the No. 25 Andretti Autosport entry, formerly piloted by Wilson, at Sonoma.
A new Wilson Children's Fund account has been established at Forum Credit Union of Indianapolis, and all donations previously sent to INDYCAR will be forwarded to the new account. All donations will be kept confidential, and an electronic option will soon be available for those wishing to contribute on-line or internationally.
Those wishing to contribute may do so by mailing a donation to:
Wilson Children's Fund
c/o Forum Credit Union
PO Box 50738
Indianapolis, IN 46250-0738
Phone: (317) 558-6000
Additionally, commemorative decals and T-shirts honoring Wilson, with all proceeds going directly to the Wilson Children's Fund, are now available from:
http://shop.ims.com/indycar/drivers/justin-wilson/
**
Be sure to catch Bruce Martin's Honda IndyCar Report on RACEDAY on FOX Sports Radio every Sunday from 6-8 a.m. ET.