Junior club: Superstitious Ken Griffey Jr. a long-time Dale Earnhardt Jr. fan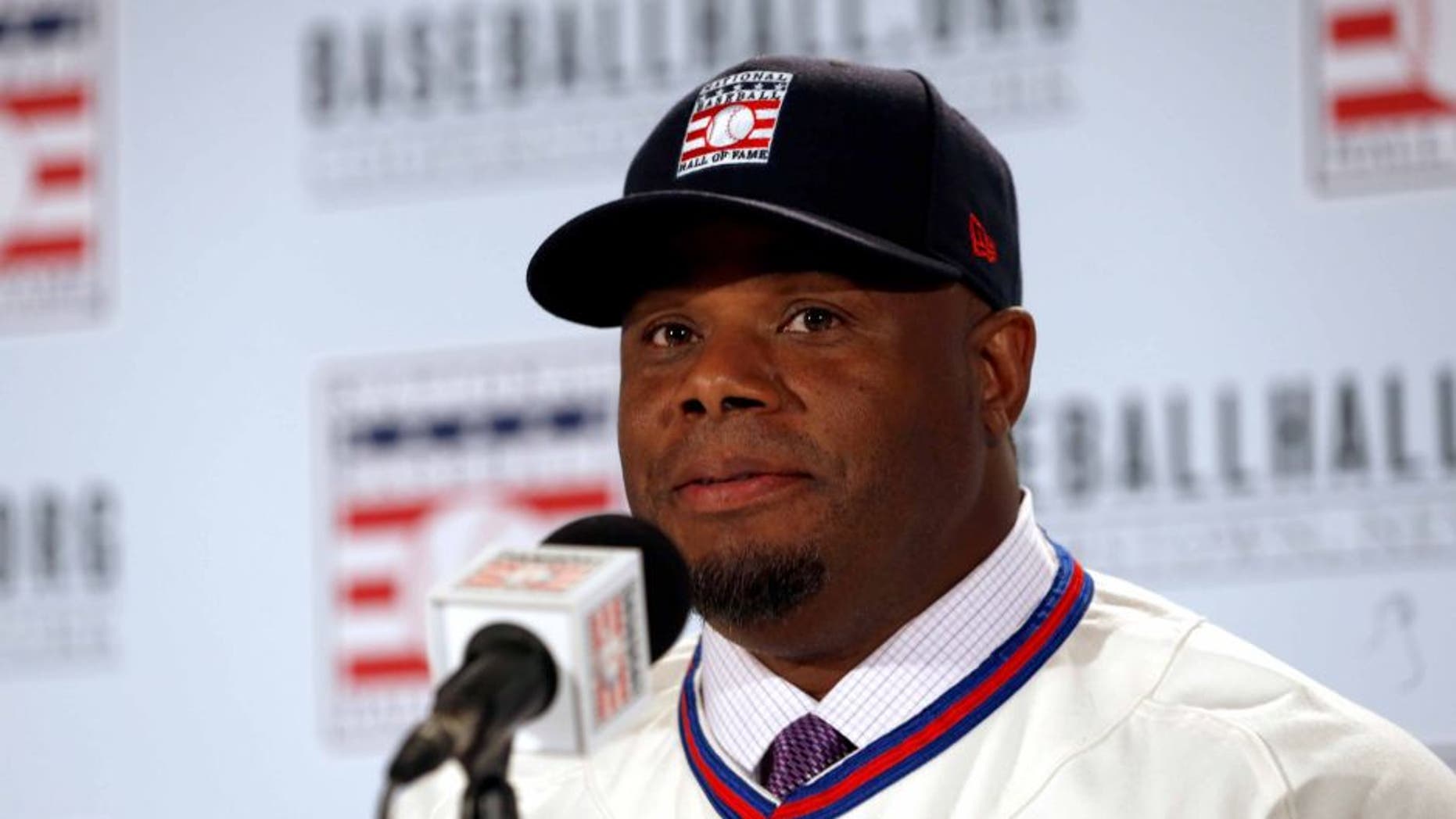 Major League Baseball legend Ken Griffey Jr. is one superstitious guy.
And he's a NASCAR fan, too.
Griffey, who last month was voted into the National Baseball Hall of Fame in Cooperstown, New York, was on hand for Sunday's Daytona 500 at Daytona International Speedway where he was serving as the honorary starter for the 58th running of the The Great American Race.
Before waving the green flag on the 40-car field, Griffey, who lives in nearby Orlando, revealed that he has a longstanding affinity for one of NASCAR's most famous families -- the Earnhardts.
"I've always been an Earnhardt family fan," said Griffey, who played 22 years in the major leagues where he was a 13-time all-star and excelled on both sides of the ball. "I wore a black batting glove on Sunday when I was with the (Cincinnati) Reds and then Dale (Jr.) for his charity asked me to sign a couple things. Most drivers sign a tire and stuff. I was like, 'I don't want a tire. I want a hood,' so I got a hood from him that's prominently displayed at my house. My wife was like, 'Where we gonna put this?' I said, 'We can put in the ceiling or on the wall.' Having a tire the only thing I could do is put glass top on there."
Griffey, also, has apparently gotten to know four-time Sprint Cup champion Jeff Gordon, who is making his debut this weekend as an analyst for the FOX NASCAR on-air team.
Griffey and Gordon, of course, share a unique connection: They both helped make the No. 24 famous in their respective sports. Daytona 500 pole winner Chase Elliott became the new driver of the iconic number, beginning with Daytona Speedweeks.
"I got a chance to play golf with a certain race car number, driver No. 24," Griffey said. "I'm really superstitious about certain things. He's no longer racing, but I hear he's in the building so I'm going to definitely go visit him, but waving the green flag, 24 will be the first car coming by, which is pretty cool, too."
Turns out Griffey is actually so superstitious that he's never stepped foot inside the National Baseball Hall of Fame in Cooperstown.
"My thing was, the first time I go in, I want to be a Hall of Fame member. All of my friends were like, 'We're going there.' I was like, 'OK, I'll see ya'll later.' They're like, 'You're not going to go in? You've got a lot of stuff in there.' And I'm like, 'No, I'm not going to do that.'"
With his induction into the Hall now imminent, Griffey plans to finally venture inside.
"In a couple weeks I'm going to go and visit to make sure that I get the lay of the land," he said. "I know where the ballpark is. I know where the hotel is. It's just the building that I missed. We even had two rainouts there and I never went in. ... I'm just really superstitious."
But in that way, Griffey said he's not that different from some NASCAR drivers.
"Everybody who plays a sport has something that they do, and even you guys have it, too," he told a room full of reporters. "I left to go a ballpark at 12 o'clock everyday if it was a night game. I'm really superstitious. I've gotten a little better as I've retired, but it's still the same."