Jones: Holm already greatest of all time in women's combat sports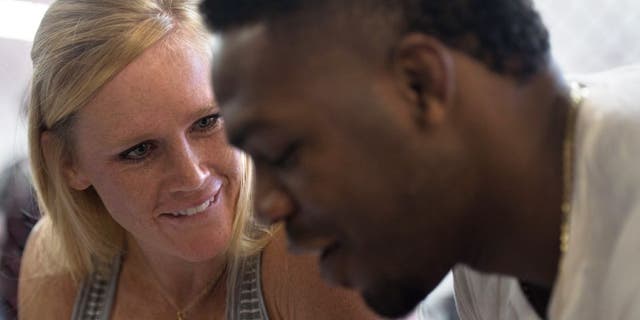 Holly Holm's win over Ronda Rousey on Saturday night came with a lot of help from her coaches and teammates, who poured all the time they could to get her prepared for the title fight at UFC 193.
It all paid off when Holm cracked Rousey with a head kick in the second round to earn the knockout victory and become the second UFC women's bantamweight champion.
Holm becoming UFC champion adds on to her already impressive accolades as a multi-time boxing champion, where she's held titles in a few different weight categories. Holm is widely considered one of the best women's boxers of all time, but with her recent UFC title win, former light-heavyweight champion Jon Jones believes she's surpassed all of her contemporaries in combat sports.
"In my opinion, Holly Holm is already the G.O.A.T. (greatest of all time) of women's combat sports," Jones wrote in a Facebook post following her win over Rousey. "She was considered the greatest female boxer to ever compete in the sport and now she has defeated the greatest female mixed martial arts fighter to date."
Jones and Holm have been friends and teammates for several years under the tutelage of coaches Greg Jackson and Mike Winkeljohn. Holm has commented on numerous occasions on how big an influence Jones has been in her training camps -- from his inspirational words to just offering tips on how she could so something different to make her a better fighter.
Prior to her fight with Marion Reneau in July, Holm told FOX Sports that Jones was "always pretty positive and he's got a great heart on him". For the fight against Rousey this past weekend, Holm said Jones was "instrumental" in her training camp, once again crediting the former UFC champion for playing a big part in her win.
Jones says he learns just as much from Holm as she ever could from him, especially when it comes to how she carries herself both inside and outside the Octagon.
"Her accolades are absolutely unheard of, but that's not what makes me such a fan of Holly. It's the way she carries herself outside of the bright lights and the arenas," Jones wrote.
"I know the MMA community doesn't really know Holly yet, so let me be the first to tell you. She is the most classy and down to earth athlete I've ever had the pleasure to be around."
Jones believes that Holm is exactly the kind of athlete children should look up to and she's definitely the perfect candidate to be a role model.
Whether it's handling her own celebrity in her hometown of Albuquerque, N.M., or just the way she treats her teammates and coaches, Holm is all class, all the time.
"She is the long-time pride of Albuquerque, N.M., not only because the way she competes, but the way she treats each and every individual that has the opportunity of meeting her," Jones said. "This actually can be a problem at times, a simple trip for a gallon of milk to the grocery store could take her an easy 45 minutes and she doesn't even mind.
"If you're impressed by Holly's talent, wait until you get an understanding of what type of character she possesses, it is truly world class. She is a role model that you would love to have your daughters look up to. I'm so honored to be able to call her a teammate and most importantly a friend. Congratulations again, champ and keep kicking ass at life."