Jon Jones slams Daniel Cormier: 'You're not a champion'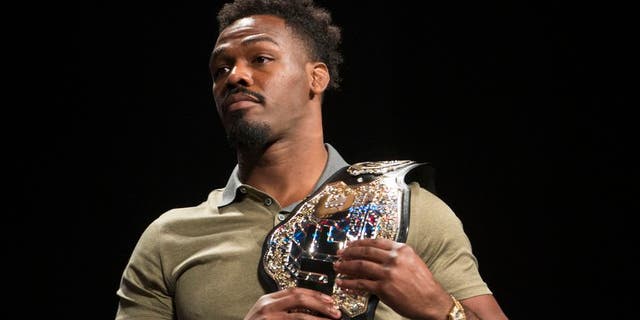 It's been more than two years since Jon Jones and Daniel Cormier met in the Octagon but the disdain shared between these fighters hasn't dissipated one bit.
As if any evidence was needed, the UFC Summer Kickoff press conference served notice that Jones and Cormier still dislike each other as much as ever before when they nearly got into a fight backstage after words were exchanged and bottles were thrown.
The mayhem continued once the press conference got underway with Jones and Cormier shouting at each other from across the stage and the volatility was so bad that UFC security wouldn't even let them stand together for the customary face off.
As if Jones needed anymore motivation to get back in action after more than a year away from the sport, seeing Cormier walk around with a title he never lost is more than enough to get him into the gym every single day until they meet again on July 29 at UFC 214.
For all the back and forth and near brawls that have happened between these two over the years, Jones says it all boils down to jealousy on Cormier's part because he wants to be the greatest of all time and simply stated that can't happen.
"Daniel's a guy, he wants what I have and I know that sounds weird cause he has the belt, but he wants what I have," Jones explained when speaking to FOX Sports via "UFC Tonight". "He wants to be known as the guy and he's simply not no matter what he tries to tell himself. I can only imagine being in his position. He lost to me and I'm sure he's a prideful guy, I know he's a prideful guy and he considers himself a champion but the truth is you're not a champion.
The insults lobbed at Cormier got a response from the champion, who fired back at Jones as soon as he heard the interview.
In his mind, Cormier says that Jones is the one green with envy because while he has been a UFC champion, he never even got the opportunity to compete in a wrestling tournament as high as the NCAA's in college or the Olympic games.
All the words aside, Cormier is just anxious to get back into the cage with Jones where he hopes to settle the score once and for all.
"He talks about I'm not the man. I didn't win the NCAA tournament, I didn't win the Olympics. I went to the NCAA tournament. I went to the Olympics. All these things he wished to have done in his life, I actually did and got to experience," Cormier said. "When he talks about I want what he has, I believe his life would be good if it was the way that I did. Going to college, finishing school, having all these other things that I have accomplished. That's your issue Jon Jones. You want what I got.
"July 29, you get to try to take it back. It ain't happening. It's not happening. I will beat Jon Jones down in Anaheim."