Jon Jones: Deep down, Daniel Cormier is 'grateful' he's not fighting me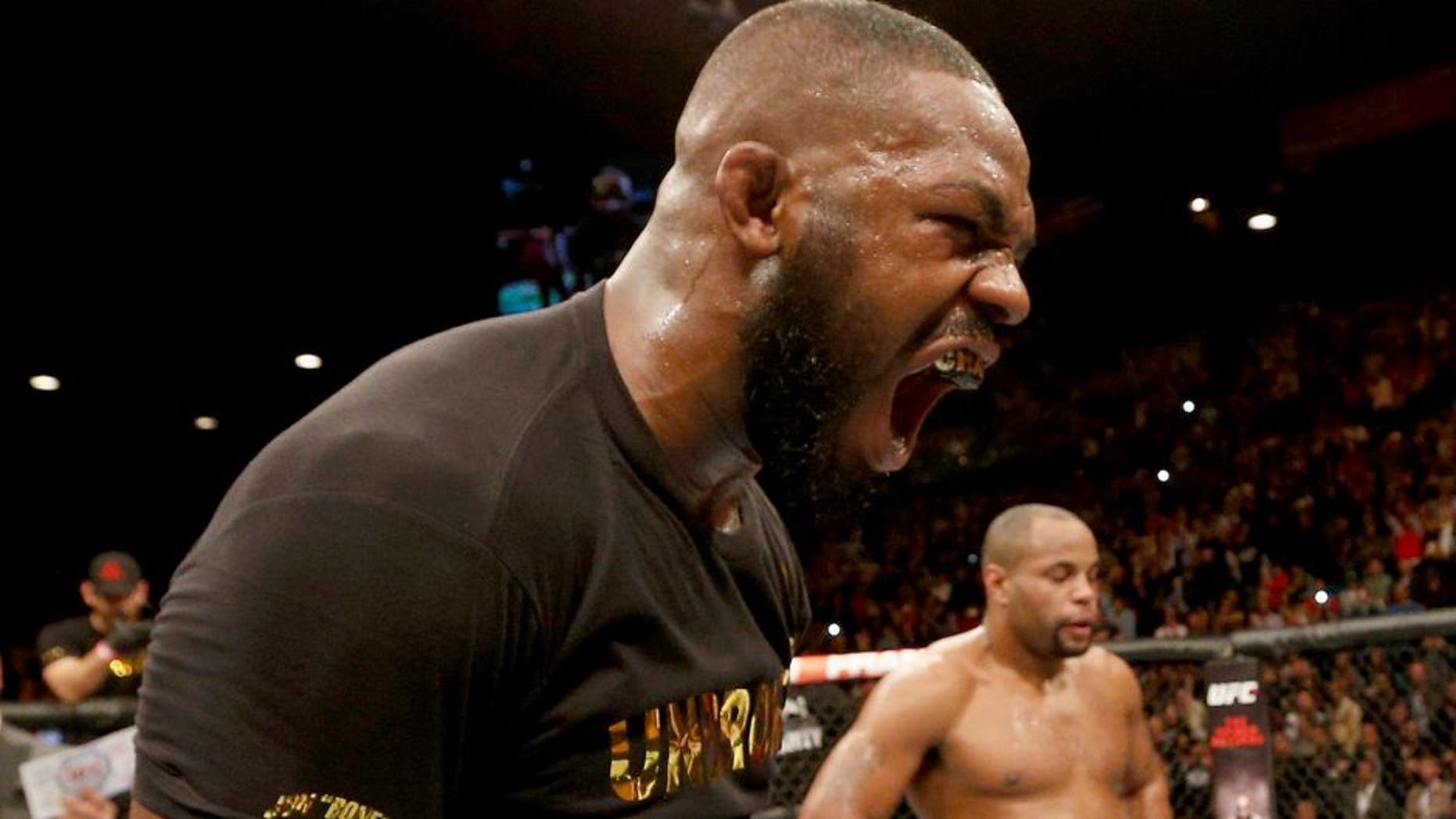 Jon Jones doesn't doubt that Daniel Cormier actually suffered an injury that forced him out of their fight at UFC 197, but he also believes the current light heavyweight champion probably breathed a sigh of relief when he received the news from his doctors.
Cormier was forced out of the bout with Jones due to a shin injury that will keep him sidelined for about five to six weeks, making him ineligible for the fight on April 23 in Las Vegas.
Jones was eager for the rematch so he could fight Cormier a second time while trying to reclaim the light heavyweight title he lost after the promotion stripped him of the belt when he was arrested in 2015 following a hit-and-run accident in New Mexico.
For now, Jones says Cormier can polish the belt he's holding for a few more months but that he'll have to enjoy it while it lasts because he can't run forever.
"I believe he's legitimately hurt. I've heard a lot of fans calling him out for being scared and he's a faker and whatnot. I believe he's hurt, but I also believe deep down inside that he's grateful to not be fighting me in three weeks," Jones told FOX Sports on Monday. "I think somewhere deep inside, he's really enjoying the thought of being able to relax, train at his own speed and know that he's still going to be the champ for at least a few more months now. That's how I feel about him.
"I have no animosity toward him, but I feel like I'm chasing him a little bit at this point to get back what's mine."
Jones claims to feel no animosity, but that didn't stop him from taking aim at Cormier in a message posted on Twitter after learning that he offered to train Ovince Saint Preux for the new UFC 197 main event.
Saint Preux accepted the fight on short notice after Cormier dropped out, and Jones wasted no time blasting the light heavyweight champion for the helping hand extended to his new opponent.
Aside from the matchup with Saint Preux, Jones is appreciative that his fans stuck by him while he's faced a lot of adversity outside the cage. Though taking on any opponent on short notice is never optimal, Jones felt like he owed it to his supporters to stay on the card and face whomever the UFC deemed worthy.
"I just felt like I've had a long year," he said. "Both me and my fans have been through a lot, and I personally know people who sacrificed a lot to make it to Las Vegas for this fight. I know people who saved up a lot of money -- people who this is their birthday gift, this is their anniversary present -- and with all the bad news that's been out there, I didn't want to my name to be associated with anything else negative. So I thought I need to go out there and do this for my fans, do this for the people who have been rooting for me, for the people who have been waiting patiently for me to perform again. I didn't want them to wait another half a year or anything like that. So I took the fight."
"I said to myself, 'Jon, if you believe you're one of the toughest fighters on the planet, if you believe you're in great shape and you believe you're the No. 1 light heavyweight then why does it matter who you're fighting against?' So I'm taking this fight."
The bout with Saint Preux will be contested for an interim light heavyweight title while Cormier continues to rehabilitate the injury that forced him off the card.
Jones wasn't all that worried about competing for a belt once Cormier dropped out of their fight, but the more time he had to think about it the more he was appreciative for the chance to put gold back around his waist after having the title stripped away from him a year ago.
"Initially when I heard it would be for an interim title, I thought to myself I don't care about an interim title. I want the actual title back," Jones said.
"But after I've had some time to think about it -- just to be associated with being a champion again and I feel like a champion in my heart and I know I'll be a champion for the rest of my life -- but to be officially associated with being a champion again, it's going to give me a ton of pride. It's going to give my fans a lot of pride and we could use that right now."