Johny Hendricks isn't afraid of Stephen 'Wonderboy' Thompson's striking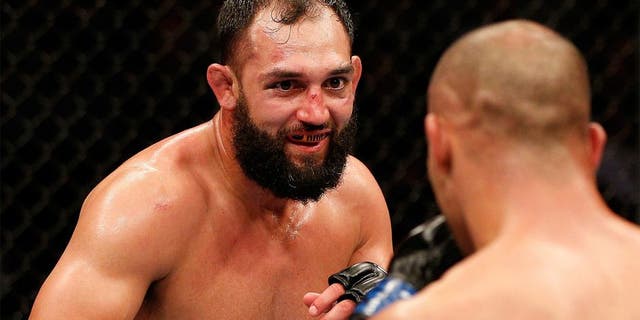 NEWYou can now listen to Fox News articles!
Former welterweight champion Johny Hendricks is no stranger to facing great strikers during his career, so he's not sure why everyone just assumes that he'll want to take Stephen "Wonderboy" Thompson to the ground when they meet this Saturday night.
Thompson is clearly more comfortable on his feet, where he has a long background in karate and kickboxing, but Hendricks is perplexed when fans and critics automatically believe that he's somehow inferior while striking.
Hendricks has been here before with several past opponents, and he was more than happy to stand and trade with them the same way he'll do with Thompson, if that's the way he wants to approach this matchup.
"Everybody who said they were a better striker than me, I've beat them," Hendricks told FOX Sports. "Carlos Condit has better striking than you. Guess where I beat him? On the feet. Martin Kampmann has better striking than you. I beat him on the feet. Robbie Lawler has better boxing. I beat him on the feet.
"There's so many things that are out there that motivates me. When people say he has really good striking, well so do I and I have something extra -- I have power. I have one-punch knockout power than can end anybody's night."
It's particularly frustrating for Hendricks, who worked tirelessly to add a boxing game to his resume after transitioning to mixed martial arts from his background in collegiate wrestling.
As dangerous as Thompson might be on his feet, Hendricks knows he can inflict just as much damage and end the fight just as quickly if he dedicates himself to finding the knockout punch.
Whether he decides to pursue that strategy in the fight remains to be seen and that's just another reason why Hendricks believes he has a lot of advantages over Thompson in this matchup.
"It really depends if I want to stay in his range. Whenever I fight somebody like him and I've fought many people with kickboxing and dangerous striking and everybody is saying he's better than me. They always forget that I can strike and I can outstrike anybody that I fight and I have," Hendricks said. "Whenever I hear people sit there and say 'he's a better striker than you,' I'm like really? Why do you think he's a better striker than me? Because he did karate for his whole entire life? Who cares?
"I've fought people who have done their entire lives with one or two things. This is mixed martial arts. What I need to do is whenever I go in there, I'm going to keep him guessing."
Hendricks knows beyond a shadow of a doubt that he can certainly out wrestle Thompson if that's what he decides to do but keeping his opponent off balance is one of the things he does best when he's inside the Octagon.
Hendricks also knows this fight is a big step up in competition for Thompson, who cracked the top 10 with his win over Jake Ellenberger last year but hasn't tackled anybody in the top five just yet.
Hendricks is more than happy to welcome him to the big leagues, but Thompson might not like it once he arrives.
"It's not easy to crack that top five and I'm going to keep him from cracking that top five," Hendricks promised.
As far as his own future, Hendricks refuses to address any potential title shot that might be looming on the horizon with a win because he's made that mistake before only to be disappointed when he didn't get the offer from the UFC.
Instead, Hendricks is looking at his bout with Thompson like a title fight because he knows if he falls to the upstart striker from South Carolina then there's a good chance Thompson will get a crack at the championship later this year. Hendricks is nobody's stepping stone, and he certainly won't give Thompson a pass this weekend.
"I'm looking at this fight as a title fight. Because if I lose this fight I have to do two more to get back to where I want to be. So this is my title fight and everyone from here on out is going to be that. Whenever I look at him, I do know this is the best Stephen Thompson I'm going to fight because if he beats me, he might be able to get a title shot. So I need to make sure I'm focused on the task at hand and that's why we're saying one fight at a time," Hendricks said.
"I just want to make sure I'm focused on him because if I start focusing too much on the title, then I lose focus on him. You don't make it into the top 10 without being somebody so I know it's going to be a tough fight. I can't wait."