Johnny Manziel is back to football after signing Canada league's Hamilton Tiger-Cats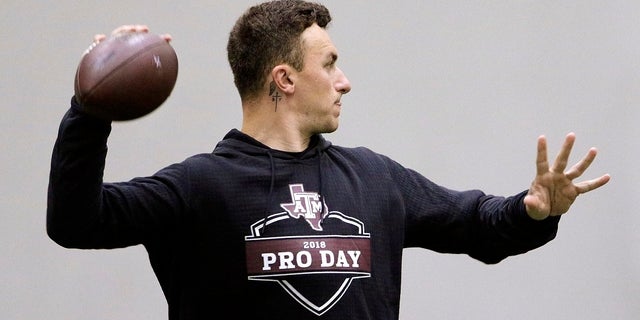 Johnny "Football" Manziel has returned to the sport after signing with the Canadian Football League following a tumultuous career with the NFL.
Manziel, 25, a Heisman Trophy winner and former Cleveland Browns quarterback, announced on Twitter Saturday that he signed with the Hamilton Tiger-Cats, ending months of speculation on a possible path back to pro football.
"Made the decision today to sign my contract with the CFL and further my football career after a long break," Manziel wrote. "Very grateful for everyone that's been supporting me along the way. I believe this is the best opportunity for me moving forward and I'm eager for what the future holds."
JOHNNY MANZIEL HOSPITALIZED FOR PRESCRIPTION MEDICATION ISSUE, REPORT SAYS
His last game in the NFL came at the end of the 2015 season. He joins a team coached by June Jones, a former NFL and college coach. The team starts training camp on Sunday and are slated to play their first preseason game on June 1.
Manziel has been working diligently to make a comeback in the NFL following a tumultuous -- and brief -- stint in the league. Manziel was drafted by the Cleveland Browns in 2014 and released in 2016. He threw as many interceptions [seven] as touchdown passes during his two seasons.
AFTER SANTA FE SHOOTING, NFL STAR JJ WATT OFFERS TO PAY FOR FUNERALS
During his stint with the NFL, Manziel did not live up to expectations and was often spotted partying. He reportedly went to rehab in 2015 and was pulled over by police while arguing with his girlfriend.
Manziel revealed in February he had bipolar disorder and was hospitalized earlier this month after having a bad reaction to a prescription medication that was recently adjusted.
The Associated Press contributed to this report.