John Wall's dagger 3-pointer forces Wizards-Celtics to Game 7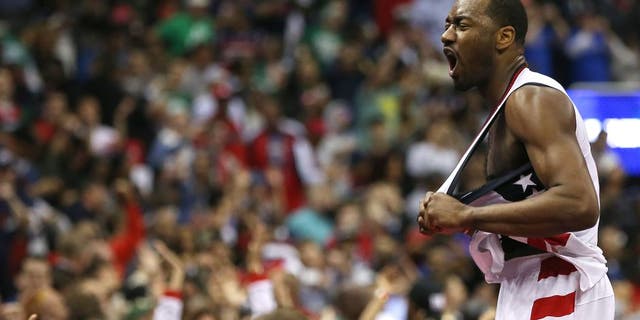 Let it be known: if you come to Washington in funerary attire, you better bury John Wall.
The Wizards point guard struggled for large portions of Game 6, but Wallnailed a clutch 3-pointer to give the Wizards a 92-91 win on Friday night and send this second-round Eastern Conference series back to Boston for a Game 7 on Monday.
Wall's late-game heroics followed a valiant effort by the Celtics' Al Horford, who made an absurd, off-the-glass jumper to stake Boston to a 91-89 lead. However, Horford had to take the shot with time remaining on the clock, as Washington's Bradley Beal created a two-for-one situation for the Wizards on the previous possession by taking a quick shot to tie the game at 89-all.
Coach Scott Brooks should thank Beal for his smart play, as Washington had multiple timeouts on that possession but declined using them to set up that two-for-one scenario.
Wall finished with 26 points on 9-for-25 shooting and eight assists; his Boston counterpart, Isaiah Thomas, had 27 points on 8-for-24 shooting and seven assists. Avery Bradley chipped in 27 points for the Celtics, who got just five points from their bench players.
Wizards guard Bradley Beal led all scorers with 33 points on 15-for-26 shooting.
The win was a nice moment of catharsis for Washington fans, who watched the Penguins eliminate the Capitals in Game 7 of their Stanley Cup playoff series on Wednesday, the same night the Wizards dropped Game 5 to the Celtics (and the Nationals lost, for good measure):
The home team has won all six games in this series, a trend that bodes poorly for Washington headed into Game 7 unless Wall can put together another heroic effort, as he did on Friday.