John Dodson too fast for Eddie Wineland, earns unanimous decision win in Nashville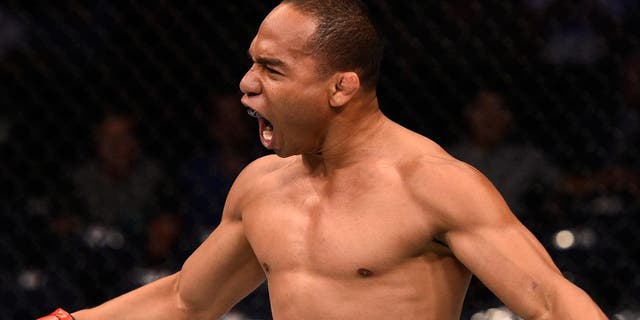 NEWYou can now listen to Fox News articles!
Following a razor-close loss to John Lineker last year, John Dodson got back on track with a dominant victory over former WEC champion Eddie Wineland at UFC Fight Night in Nashville on Saturday night.
Dodson promised a knockout going into the event but couldn't quite deliver while doing his best to stay out of range from Wineland's own powerful counter striking. Still, Dodson was just too quick on his feet and Wineland simply couldn't catch up with him over three rounds.
As a flyweight, Dodson was already considered one of the fastest fighters on the roster and he clearly hasn't lost a step moving up to 135 pounds.
Dodson used his fast feet and quick head movement to stay out of Wineland's punching power throughout the opening round while countering with rapid-fire combinations to the head and body in return.
While both fighters seemed wary of engaging too much considering the power each of them packs, Dodson managed to land the better shots while Wineland tried to figure out a way to finally catch up to his quicker opponent.
Dodson continued to assault Wineland in the second round with his blistering speed while jumping inside with a series of punches before getting out of range before he could catch anything significant in return.
One of the better strikes of the round came when Dodson landed a head kick but Wineland didn't even seem staggered after eating the show as he grabbed the leg for a moment before the fighters reset in the center of the Octagon.
The third round saw Dodson dish out more of the same including a nasty jab that he fired off in succession with the final punch landing with just as much power as the first.
By the time the final horn sounded, Dodson had diced up Wineland's face with blood streaming from a couple different cut sustained during the fight.
The judges returned scores of 29-28, 30-27 and 30-27 all in favor of Dodson, who picks up his third win in the bantamweight division in the UFC.
Following the victory, Dodson didn't call anybody out by name but instead sent notice to the entire division to stop avoiding fights with him.
"I'd like to fight anybody thats willing to say yes," Dodson said. "So everybody in the 135-pound division, stop saying no!"