Joe Lauzon: I felt I had taken the life out of Gomi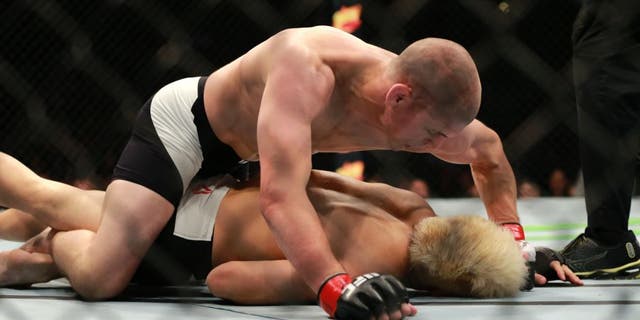 NEWYou can now listen to Fox News articles!
The ending of Saturday's first UFC on FOX main card bout between Takanori Gomi and Joe Lauzon combined jarring violence and surprising compassion. Fighters are supposed to keep attacking one another until the referee separates them, and stop not a moment sooner.
However, after he had unleashed a barrage of concussive punches and elbows on a flattened out, belly-down Gomi, Lauzon decided for himself that his opponent had taken enough punishment. Without prompting from excellent referee Herb Dean, Lauzon got up and walked away from his fallen foe.
"There was no doubt in my mind at that moment the fight was over, but then I got up and walked away and then Herb is looking at him," the UFC's all-time fight bonus leader said, post-fight.
Of course, the fight wasn't officially over until the referee waved it off. After a few tense and confusing moments of examination and deliberation, Dean realized that Lauzon was right and that Gomi was in no shape to continue.
"It looked like [Dean] was trying to make a decision, so then I started kinda coming back, but I thought it was over. I normally wouldn't stop unless I was 100 percent sure," Lauzon explained.
"I hit him good a couple of times. When I had his back, I spread him out and I think he tore something in his groin or something because he was fighting pretty hard and then he let out kinda of a squeal. Then he completely went flat. I felt like I had taken the life out of him."
Gomi has been one of Lauzon's personal favorites since the Massachusetts fighter was a teenager. Not only had Lauzon had enough of beating on the man he so respected, he also just plain felt as though the Japanese legend was out cold.
"I thought he was unconscious. I thought he was out. He looked out," he maintained.
"Herb Dean was right there, so I figured he was unconscious. I thought I beat him to him putting hands on me and I walked away. Then he's kinda looking at him and checking him out. I'm like, 'He's not going to stop this.' Then I started to kinda run over and then before I got there he waved me off.
"I thought [Dean] was stopping the fight. I really did. He was right on top of me. He didn't put his hands on me, which I guess that's what I should've waited for, but Gomi was clearly unconscious. He's face down. I'm hitting him in the head a couple of times. He's not moving at all."
It is rare that restraint is a virtue, or even simply works out for a fighter. Lauzon managed to insert some out-of-place empathy into one of the biggest fights of his career, and luckily it worked out for him, as well as his opponent.
Joe's compassion didn't bite him in the ass, and though he was too tough for his own good, Takanori was spared additional brain damage. It was far from a win-win, but it was still something.