Jimmie Johnson's scary crash, Jamie McMurray fire take them out at Pocono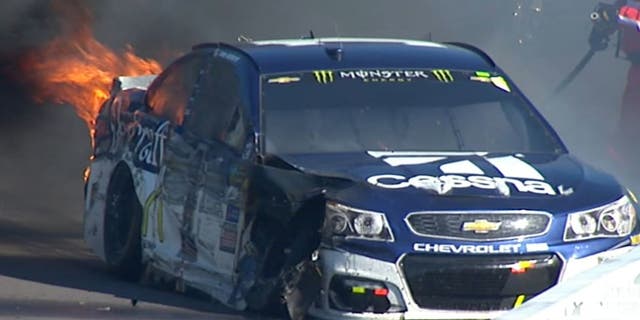 NEWYou can now listen to Fox News articles!
Seven-time Monster Energy NASCAR Cup Series champion Jimmie Johnson had a scary ending to his race in Sundays Pocono 400 at Pocono Raceway.
With five laps to go in Stage 2 of the race, Johnson suffered a catastrophic brake failure in the No. 48 Hendrick Motorsports Chevrolet as he headed into Turn 1, where corner entrance speeds are typically well above 200 miles per hour.
Johnson was running seventh at the time, two spots in front of Jamie McMurray, when his car violently struck the wall.
Winded by the impact, Johnson climbed out of his destroyed race car and sat with his back to the SAFER barrier as he got his wind back.
Whew. Got away with one there, said Johnson on the teams radio.
McMurray also crashed hard, as his Chip Ganassi Racing Chevrolet burst into flames. Like Johnson, McMurray was able to get out under his own power.
The two crashed cars brought out a red flag.