Jim Irsay will be damned if Colts dont win multiple Super Bowls with Andrew Luck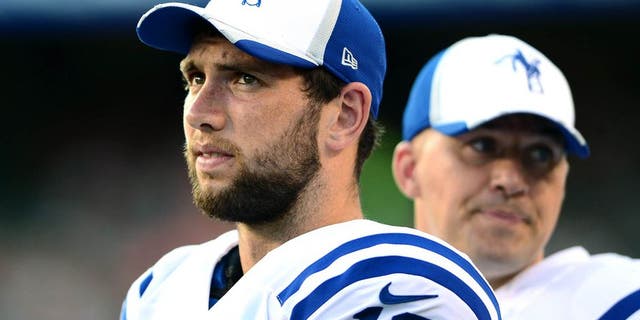 NEWYou can now listen to Fox News articles!
Few teams in the NFL have been as fortunate at quarterback as the Colts have been over the past two decades. From Peyton Manning to Andrew Luck, Indianapolis has been set at the most important position in sports since the start of the 1998 season, and that seems destined to continue for at least another five-plus years.
Thats a huge advantage, but the Colts havent taken advantage of their stability at quarterback the way a team like the Patriots have, or the way the Cowboys did in the '90s. Theyve won just one Super Bowl and reached another during the Manning and Luck eras, but owner Jim Irsay expects that to change.
He made a strong declaration on Thursday night at a town hall event for Colts season ticket holders, expressing his optimism going forward.
Ive said it before were into plural Lombardis, Irsay said, via the Indianapolis Star. Thats what our goal is. And Ill be damned if we dont go out and get them.
Luck took the Colts further and further into the playoffs in each of his first few seasons from wild-card exit in 2012 to the AFC Championship game in 2014 but Indianapolis has missed the postseason the past two years. Part of that was due to Lucks injury in 2015, but there was no excuse for their struggles last season.
Theres reason for optimism in Indianapolis for this upcoming season, though. The Colts added several key pieces on defense, and Luck is expected to be fully healthy despite not participating in offseason workouts following shoulder surgery. Irsay said Luck is healing tremendously, which should excite Colts fans.
This has been a positive thing, not a negative thing or anything like that, Irsay said. He was really struggling, going through the process of getting ready to play (last season). This was, quite frankly, not that complicated of a surgery. It was a simple labrum repair. There are a lot of other things that couldve gone into that type of surgery that werent involved at all.
Whats working against the Colts is the fact that not only is the AFC South on the rise, but the Patriots, Steelers, Chiefs and Raiders are all Super Bowl contenders. Itll be difficult for the Colts to win it all this season, and with the amount of young talent on those four teams, itll be hard for Indyto even reach the Super Bowl.