Jerry Jones says Tony Romo will be a 'great offensive coordinator' one day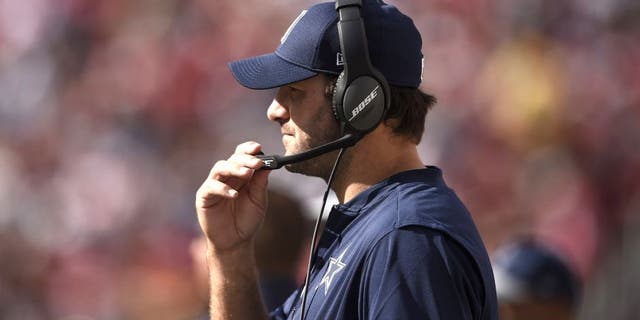 The Dallas Cowboys have committed to Dak Prescott as their starting quarterback going forward, at least until he gives the team reason to yank him from the starting role. That leaves Tony Romo as the most expensive backup quarterback in the NFL.
Last week, Stephen Jones said Romo would accept being the second-string guy to Prescott, not that he has much of a choice. Now that the decision has been made official, Romo has seemingly assumed his role of being Prescott's backup, and Jerry Jones says he's been "wonderful" about it.
"Make no mistake, he's really wonderful about this," Jones said on 105.3 FM The Fan, via the Star-Telegram. "Tony is going to have serious options [when his playing days are over], and of course, he's a young man relatively speaking."
Jones eluded to Romo's future not because he's hinting at him playing elsewhere next year, but his next career in football after his days as a quarterback are over.
Here's what Jones had to say about Romo possibly transitioning from quarterback to offensive coordinator in the future.
"Tony has the ability to be a great -- I'm not talking about a good one -- a great offensive coordinator," Jones said. "He has an eye and an understanding about offensive football that's exceptional."
Romo has helped Prescott transition from fourth-round rookie to a potential Pro Bowler by assisting him in practice, on the sidelines during games and giving him advice each week. Granted, Prescott has done a great deal himself to get to this point, too, but Dak will be one of the first people to praise Romo for his helpfulness.
His time with the Cowboys is nearing the end, but that's what happens when a quarterback hits 35 years old and begins to deteriorate physically. His eye for the game is still there, and Jones used it to find Romo's heir a few years ago.
"As a matter of fact, two years ago I sat down with him and I said, 'I really want you in the process as we really get into picking a quarterback for the future because I don't want you to leave your career without having the benefit of you helping us get this quarterback and getting him ready to go.' And, of course, his eyes just lit up and he said, 'Boy, I'm your man. And I think I can pick one as good as anybody.'"
Jones wouldn't rule out the chance that Romo will see the field at some point this season, saying "that'd be madness." He'll be suited up and ready to go on Sunday (as the backup), and while the Cowboys hope they don't have a situation where Romo needs to play, he'll be prepared if called upon.