Jack Montague sues Yale for expulsion following sexual assault allegation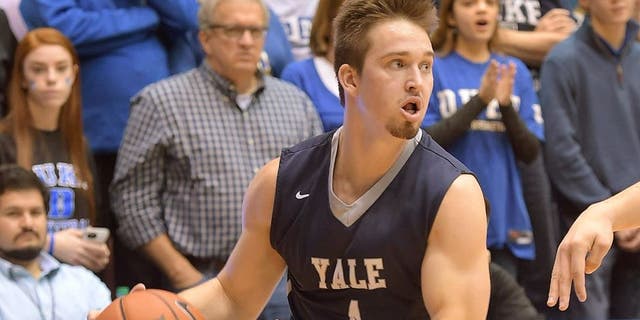 NEWYou can now listen to Fox News articles!
Jack Montague, the former captain of the Yale basketball team, has filed a lawsuit against the university after he was expelled following a sexual assault allegation.
FOX61.com has the details of the lawsuit, which stem from a school committee on sexual misconduct finding that that Montague had engaged in non-consentual sex with a female student in fall 2014.
Montague's attorney, Max Stern, said he and the female student slept in Montague's room four times in the fall of 2014. The lawyer said the woman consented to staying in the room and/or having sexual relations with Montague three times. The fourth time they were together they had intercourse, and then the woman left the room and returned sometime later and stayed the night.
She later said that last time was not consensual, though Montague maintains that it was.
Montague was expelled in mid-February and was set to graduate on May 23. He averaged 9.7 points and 3.0 assists per game in his senior season.
"The expulsion not only deprives Jack of the degree which he was only three months short of earning, but has simultaneously destroyed both his educational and basketball careers," his attorney said in a statement.