It's a close fight for the 2015 truck title, but who has the edge?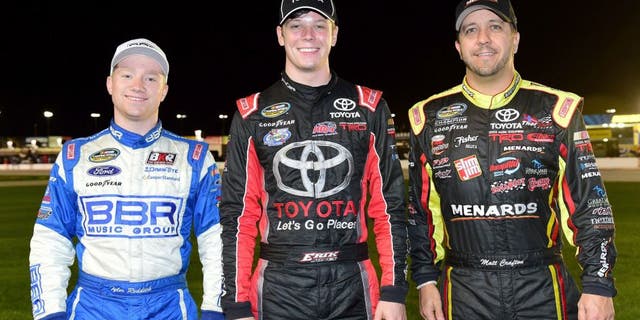 NEWYou can now listen to Fox News articles!
Three drivers are in the hunt.

Two races remain to be run.

One championship is up for grabs.

That's the crux of the situation as the NASCAR Camping World Truck Series prepares for Friday night's Lucas Oil 150 at Phoenix International Raceway (FS1, 8 p.m. ET).

Erik Jones, who dazzled last weekend in Texas by dominating the truck race and delivering a solid performance in place of suspended Matt Kenseth on the Sprint Cup side, comes into the Phoenix weekend with a 17-point lead over reigning and back-to-back truck champion Matt Crafton.

Third-place Tyler Reddick, 21 points behind Jones and just four behind Crafton, is the only other driver with a realistic shot at the title.

So how does Jones, a 19-year-old rookie in his first full truck season, feel about going up against veteran Crafton over the final two weeks as the two-time champ tries to make history by becoming the series' first winner of three consecutive titles?

"You know, being in this situation I guess is a new experience for me at this level at least," Jones said. "I've done it in the Late Model stuff and I've done it on the owner's championship side of things, but obviously the 88 team (of Crafton) and Matt and Tyler have been running well the last few weeks and gained points back up on us that we had made up. So we just need to make sure we're doing all that we can every week to get out and run as well as we can and just go out and get good finishes."

Crafton, who saw his hopes of another championship take a hit with Jones' victory in Texas, has formulated a very simple battle plan for Phoenix and next weekend's season finale at Homestead-Miami Speedway --€" and it involves not focusing on the championship scenario.

"I'm not worried about it," Crafton said. "Our plan is to go into the next two races and try to lead the most laps and win the race. That was our goal before Martinsville, and we accomplished that feat. We had a fast truck in Texas last weekend, won the pole and finished fourth. It's Erik's championship to lose, and ours to win right now. He's got to be on defense and all we've got to do is play offense, try not to make any mistakes and he's got to do the same thing. We just can't have any bad luck."

Crafton, whose five wins this season are the most in the series, owns five top fives and 10 top 10s in 14 starts at Phoenix.
Reddick, a two-time winner in 2015, finished 10th in his one previous start at the Arizona oval.

It's Jones, however, who holds the clear advantage heading into the final two races. In addition to his cushion in the standings, the Byron, Michigan native is a perfect 2-for-2 at Phoenix, where he made history in 2013 by becoming the then-youngest winner in NASCAR national series history at just 17 years old (Cole Custer, who won a truck race at age 16, now holds the record). Last year, Jones led 114 of 126 laps at the 1-mile track to win from the pole.

Understandably, confidence is high in the Kyle Busch Motorsports driver's camp coming into Friday night, when he hopes to go to Victory Lane for the fourth time this year.

"Heading to Phoenix, we're undefeated there with two-and-0, and hopefully we can go and pick up another win this week and keep my perfect record intact," said Jones, who would clinch the championship if he left Phoenix with a 49-point lead over second place.

Jones, who is bound for a full-time XFINITY Series ride in 2016 with Joe Gibbs Racing, would love nothing more than to finish his first and only full truck season on top.

"It's nice to know what we're doing next year, but for me to have a Truck Series championship and know that we can have the opportunity to get an XFINITY Series championship next year, it'd be nice to have both of those series championships," Jones said. "There's only a few guys that have been able to win in both those series, so for me it's kind of the stats thing. You always want to be able to look back at those stats and getting that championship trophy would just be kind of one of the cool steps in my career that I would be able to be able to hopefully accomplish."