Italian goalkeeper slaps referee in eighth division match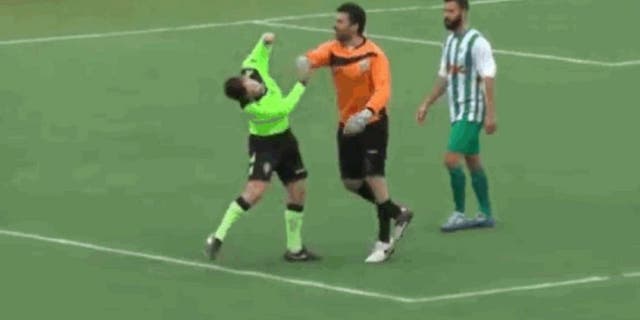 When undergoing the rigorous process of acquiring one's referee badge, being subjected to attacks from players should, under no circumstances, be part of the job description.
Unfortunately, that's exactly what happened in Italy's eighth division.
Video footage from earlier this month recently surfaced from a playoff promotion match involving Isolese and Sciarborasca in which the former conceded a late penalty. And, after Sciarborasca's No. 10 converted, a flock of Isolese players immediately swarmed the referee, including the goalkeeper, who was NOT pleased. Watch the madness unfold at 1:20:
Ugly stuff. Sciarborasca went on to win 1-0, but the incident rounded off an unfortunate month for referees.
First, a fan's vicious attack on an assistant in the Turkish Super Lig match between Trabzonspor and Fenerbahce resulted in the game being abandoned in late April. Then, a pair of Czech officials were each handed indefinite bans after one appeared to be drunk on the sideline and the other was seen urinating during a game. And just eight days ago, Spain's first openly gay referee reliquished his position after repeated homophobic abuse.
MORE FROM FOX SOCCER