Hurdle's pep talk boosted Polanco's confidence to new heights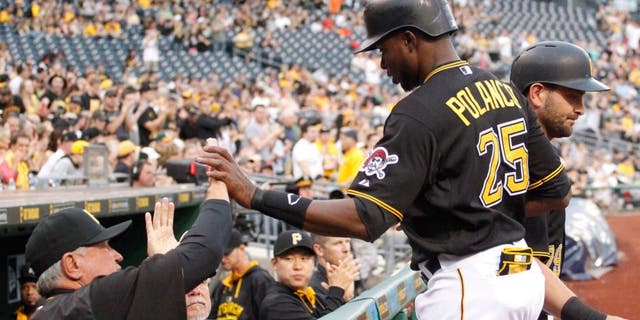 NEWYou can now listen to Fox News articles!
Gregory Polanco doesn't have to worry about going back down to the minors anymore. Because he once certainly was until manager Clint Hurdle set the then-struggling youngster straight.
Hurdle, according to MLB.com, told Polanco: "'You're not going down. 'You're going to stay here. You're going to play."
Those words set Polanco free.
At the time in early July, Polanco was hitting just .230 and struggling to get on base. Hurdle could tell the 23-year-old right fielder was pressing, so he reassured him that he was going to stay in the big leagues, and he was going to play.
"You never know," Polanco told MLB.com. "I was not doing good, so I was just thinking about it. ... That made me confident, a lot better."
Amazing what a little confidence can do, even for the best baseball players in the world. Since then, Polanco is raking at .313 with a .859 OPS, according to MLB.com.
His turnaround has been a significant part of the Pirates' recent surge, keeping them in contention for the NL Central crown.
"I feel very confident. You have to stay like that," Polanco told MLB.com. "I'm trying not to change anything."
(h/t MLB.com)