How the Dallas Cowboys blew their 2016 draft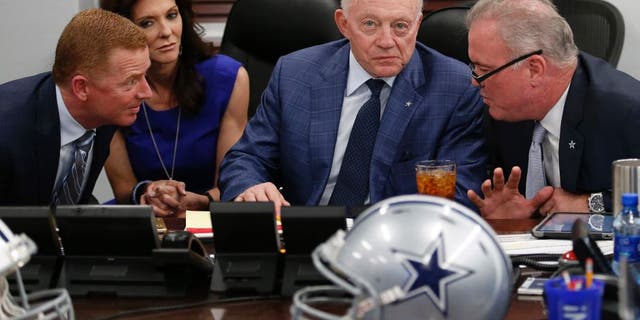 NEWYou can now listen to Fox News articles!
Okay, every NFC East team that thinks it had a great draft, step forward.
Not so fast, Dallas.
Despite Jerry Jones believing that taking running back Ezekiel Elliott at No. 4 was a game-changer ("I've had my finest hours in business going against the grain," he told MMQB's Peter King), it's a move only DC, New York and Philadelphia could love. It's yet another example of what the mediocre-to-awful Cowboys of the last 20 years do best: putting star power and skill positions ahead of needs, consequences be damned.
Over the past two years it had looked like cooler, wiser heads had been prevailing in Dallas when they'd been presented with choices between flash and substance. This was most famously shown when the Cowboys passed on Johnny Manziel for some offensive lineman in the 2014 NFL draft, a pick that still annoyed Jerry Jones even after Manziel began his downward spiral in Cleveland. Meanwhile, that offensive lineman, Zack Martin, is now two-for-two in Pro Bowls and has a first-team All-Pro honor as well.
Solid, measured drafting like that would be the key to breaking through and becoming a dominant team in a division that hasn't seen one in a decade. Shoring up an offensive line, however unsexy, is how DeMarco Murray became a star in 2014 and even gave the oft-injured Darren McFadden the second-best season of his career in 2015, much to the delight of his fellow Arkansas Razorback Jerry Jones. The idea of getting another good back is sound: A solid rushing attack helps Tony Romo which helps Dez Bryant and the receiving corps and, thus, goes back to helping the offensive line. Football is all about symbiotic relationships.
Doing the same to the defense - by, say, drafting FSU cornerback Jalen Ramsey or edge rusher DeForest Buckner - could have had the same sort of domino effect. A shutdown secondary could allow Dallas to load the box to stop the run or attack on more blitzes with the knowledge that coverage would be taken care of downfield.
But the lessons Dallas should have learned from the Manziel/Martin situation were already forgotten. Instead, Jones went for a position that has more first-round busts and more late-round successes than any other. It's rare the Cowboys are in a position to draft such a big prospect. After taking Elliott, it might not be long before they're in the same spot again.
Time and time again it's been proven that you don't need a running back in the first round, particularly when you're drafting as high as the Cowboys were. Consider: Only three rushers in the past 20 years have been drafted higher than Ezekiel Elliott. All were expected to change their offensive complexion of their teams and begin new dynasties. Those three players: Ronnie Brown, Reggie Bush and Trent Richardson.
But the high bust potential isn't why the Elliott pick was wrong. (He might be great. Jalen Ramsey might be a bust.) Nor is the fact that running backs rarely (almost never) are the key cog to a Super Bowl title team. (The Patriots won a title with their rushing leader getting 412 yards on the ground. The Giants won their last Super Bowl with Ahmad Bradshaw, who finished the year with 659 yards. Even the Super Bowl teams with the best runners had guys who barely clipped 1,000 yards (Marshawn Lynch being the exception, though he was playing on a team largely predicated on its defense).
The biggest issue is the shifting doctrine of the Cowboys. Dallas drafted for offense, which is fine. Their best-case scenario is, I don't know, Romo, Elliott and Dez Bryant becoming the new triplets and leading Dallas back to the later stages of the playoffs that have been so foreign to the franchise since the days of Jimmy Johnson (and that year Barry Switzer rode his coattails to a title)?
It sounds great. Great passer, great receiver, (theoretically) great runner. Put up four touchdowns per game and run through your schedule to the playoffs. The problem is Dallas's defense has all the trappings of one that might give up a lot of points too. It's not much benefit to score 28 points when you're giving up 31. An offense is only as good as its defense - just ask the Saints.
That's why something King wrote about Jones and the Dallas coaching staff (which are usually just mouthpieces of Jones) was so tremendously "Cowboys": Part of the reason they took Elliott was because they thought his presence would lead to longer drives that would keep the defense off the field. On the whole it makes sense. You want your offense to keep your defense off the field. But, and I'm just spitballing here, if you're worried about your defense being on the field, it's likely because you're worried about your defense in general. In that case, draft defense. Who, worried about their defense, goes offense instead, trusting it to help that defense? It's insane.
There's this new wrinkle - most hilarious of all and also written about on MMQB - that Dallas was trying to acquire another first-round pick (late in the round) to get Memphis quarterback Paxton Lynch, who would then be an understudy to Tony Romo.
The whole thing is played up by Jones like Lynch almost became a Cowboy. In that case, Dallas would have taken a running back at No. 4 when there were a half-dozen other holes to fix and then would have been happy to give away picks to draft a quarterback who wouldn't even play for years.
Only, it didn't go down that way. The Cowboys merely desired Lynch, but not enough to do anything other than blow some smoke, at least according to King's account. Why? The Cowboys lowballed almost every team picking from No. 18 and No. 28 in their "attempt" to get Lynch, offering packages no sane team would take. It's sort of like going into a Hyundai dealership, offering the salesman $11,000 for a Sonata and then, after getting immediately rejected, saying "well, I almost bought a car today."
How bad, truly, could Dallas have really wanted the Memphis QB? Jerry Jones gets what he wants and if he wanted Paxton Lynch, then he'd have gotten Paxton Lynch.
Jones boasts of his risk-taking yet took no real risks, at least in his eyes. To the rest of the NFL, taking a back at No. 4 would be a fireable offense. For Dallas, it's the key to a door they'll never unlock.

How 'bout them Cowboys?